The National Business Aviation Association's (NBAA) 2021 annual trade show will go on despite the pandemic, but the group is now requiring attendees be vaccinated.
Face masks, however, will likely be optional for attendees, the group says on 31 August.
The NBAA Business Aviation Convention & Exhibition (BACE) is scheduled for 12-14 October in Las Vegas. NBAA cancelled last year's event, which is the business aviation's largest such gathering, due to Covid-19.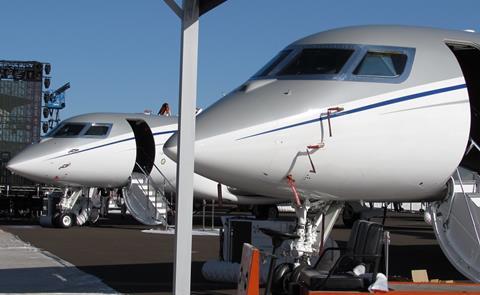 "The National Business Aviation Association (NBAA) is announcing today that it is adopting a Covid-19 vaccine requirement for the 2021," says NBAA. "We are taking guidance from health and safety experts and adopting trade show best practices."
NBAA has not specified methods by which attendees can prove they have been vaccinated. "We are working on additional details and anticipate providing information about proof of vaccination at least 30 days in advance of the show," the group says.
People vaccinated in the USA typically receive paper CDC vaccination cards, which are widely considered proof. Some state governments also accept digital images of the cards as proof.
"With the vaccine requirement at NBAA-BACE, we anticipate that mask wearing will be a personal choice for attendees and exhibitors", including those at the main convention hall and at the display at Henderson Executive airport, NBAA adds. "Persons who wish to wear masks are encouraged to do so."
But attendees should have masks on hand in any case, as face coverings will be required when on shuttle buses, NBAA says. Additionally, the group intends to mark the trade show floor so as to encourage "physical distancing in queuing locations".
The show's exhibit floor is sold out, and NBAA expects "an important and highly successful show", the group says.
"Flight activity is high, transactions are strong and innovations are coming to the market at an accelerated pace. NBAA-BACE is going to be a great show that will move the business aviation industry to new heights," NBAA chief executive Ed Bolin says.
NBAA is pushing ahead with the show despite lingering travel restrictions that threaten to keep out attendees from many major business aviation markets.
The US government still prohibits entry into the US by travellers from 33 countries, including Brazil, China, Ireland, the United Kingdom, India and countries in the Schengen Area (which includes most of continental Europe).
The 2021 NBAA-BACE stands to be a US-centric event unless the USA lifts restrictions prior to the show.
The group had secured 730 exhibitors as 31 August. Some 970 companies exhibited at the 2019 show, according to NBAA's figures.