Beta Technologies, a developer of electric vertical take-off and landing (eVTOL) aircraft, has raised $368 million in funding to support development of its Alia aircraft.
The Vermont-based aircraft company says on 18 May the funding round was led by Fidelity Management and Research, with Amazon's Climate Pledge Fund as well as new and returning investors joining.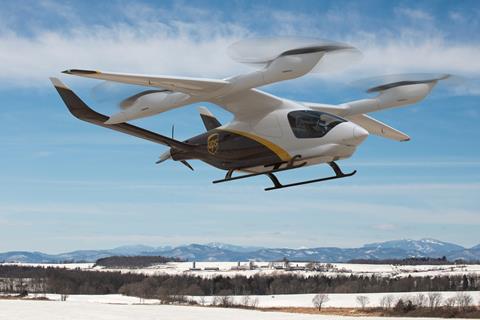 "We're gratified for the confidence this diverse group of investors has placed in our team as we continue on our mission to transform how people and goods move about the world," says Beta's founder and chief executive Kyle Clark. "These funds allow us to continue hiring the best talent, meet aggressive certification milestones, ramp up production of Alia, and accelerate the roll-out of an extensive high-speed universal charging infrastructure."
Beta's says its aircraft, which can carry 1,500lb (681kg) of cargo or up to six people for 223nm (402km) on a single charge, will serve logistics, passenger, medical and government sectors.
In April, express package delivery company UPS acquired options to buy up to 150 eVTOL aircraft from Beta, with deliveries planned to start in 2024.
Beta also recently said Blade Urban Air Mobility would be its first passenger service customer, having ordered five Alia aircraft, with options to purchase 20 more. The US Air Force is also partnering with Beta on its Agility Prime programme.
Beta's aircraft has four fixed, vertically-positioned props for lift and one pusher prop at its tail. It has distributed "direct-drive electric" propulsion system with air-cooled motors.
It is designed to land on what Beta calls its "multi-featured charging pad", which is composed of a landing deck atop a structure that houses a control centre and rest area.
In addition to the funding, Beta also says on 18 May that it is initiating the permitting process to expand its footprint at Burlington International airport in Vermont that will create "hundreds of new jobs" in the coming years. The new project will include office space, research and development and manufacturing space.