Bombardier plans to deliver in excess of 120 business jets in 2022 as it ramps up production year on year, and could increase output further as early as 2023 if the market remains strong.
During the year – its first full 12 months as a pure-play manufacturer of executive jets – the Canadian airframer shipped 120 aircraft, beating its initial guidance for the period to 31 December by 10 units.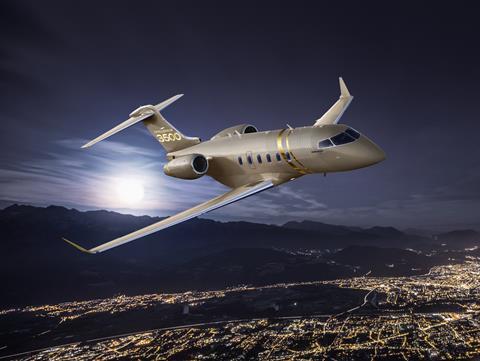 Eric Martel, Bombardier chief executive, told analysts on 10 February that although it was benefitting from "market tailwinds", the repositioning of the company over recent years has also allowed it to capitalise on rising demand.
Although Martel stresses that Bombardier will continue to exercise "prudence" with regards to future production rate rises, taking into account the backlog, pricing and supply chain pressure, its guidance for 2022 is for deliveries of "more than 120 jets", chiefly due to rising output from the Challenger family.
That caution will persist into the longer term, but he says the airframer is positioning itself "to accelerate deliveries by another 15% to 20% as soon as 2023".
Production slots are "largely sold out for 2022", he says, and the company is in a "very, very good place already for '23". Backlog at 31 December stood at $12.2 billion, a $1.5 billion increase over the year thanks to a book-to-bill ratio of more than 1.5 for the full year.
A decision to concentrate solely on medium- and large-category jets and abandon the light jet segment with the end of Learjet production is also generating higher levels of profitability, he adds.
And while the market for light jets may return given the overall levels of demand for business jets, Martel says the company is not tempted to reverse its course; it feels, he says "pretty solid" about the decision.
Bombardier sees the light jet market as "less lucrative" than those for bigger aircraft, which represent "85% to 90% of the dollars in this industry", he says.
"It's also a market that is much more cyclical, probably [more] than any other part of our industry. So for all those reasons, despite the fact that there'll be a market, we're not ignoring this: we made the preference and the decision of competing in the medium and large [segments] and also growing our services business."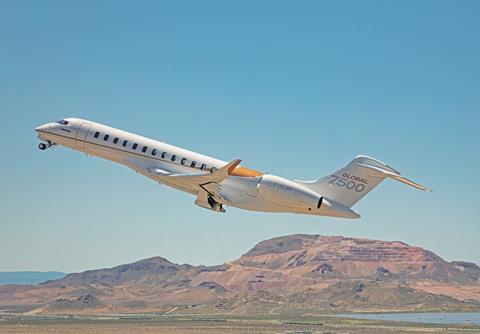 Large-cabin aircraft also accounted for a higher share of total deliveries, going from 59 of 114 shipments in 2020 to 66 of 120 in 2021.
Alongside the decision to ditch the Learjet brand – the final three aircraft will be shipped this year – 2021 saw the launch of the new super-midsize Challenger 3500, which gains a new cabin and cockpit improvements over the earlier Challenger 350.
Martel says the flight tests and certification are running to schedule and will allow production and deliveries to begin this year. "The aircraft has also been a huge success on the sale front. It has significantly contributed to our team achieving the best order intake in the last eight years."
Progress has been made on maturing assembly of the flagship Global 7500. In all, 39 of the ultra-long-range jets were shipped last year, as Bombardier reached "steady state production" on the type, allowing the programme to make a positive EBITDA contribution last year. Only a few units remain before the 100th delivery of the twinjet, says chief financial officer Bart Demosky.
Meanwhile, the airframer continues with its preparations to shift production from Downsview near Toronto to a new facility in Mississauga, Ontario. "We are very excited to make the move to the new state-of-the-art facility. It will further optimise operational efficiency, as well as our environmental footprint," says Martel.
For 2021, Bombardier recorded revenue of $6.1 billion, down slightly on the $6.4 billion registered in 2020. However, adjusted EBITDA rose to $640 million, up from $200 million the previous year.
For 2022, the manufacturer anticipates revenue of more than $6.5 billion, with adjusted EBITDA hitting $825 million.