Bombardier says that its Global 5500 and 6500 have received FAA certification, completing its approval requirements in three of the world's major jurisdictions and allowing it to begin delivery of the aircraft to customers.
Transport Canada and EASA certificated the Global 5500 and 6500 within a few weeks of each other earlier this year.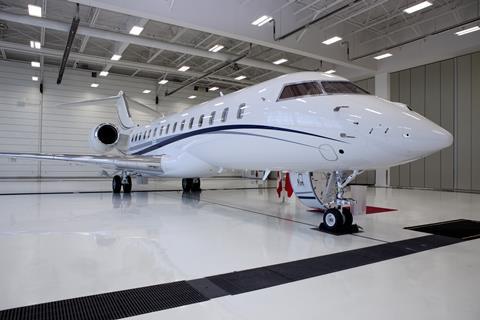 "This latest milestone is terrific news and starts a new chapter in our Global family story," Michel Ouellette, senior vice-president, Program Management and Engineering at Bombardier Aviation says in a statement on 23 December.
In addition, the Montreal-based planemaker says in a separate statement that it has delivered its first Global 6500 aircraft to Hong Kong aircraft management company HK Bellawings Jet Limited.
"These new aircraft build on the success of the Global 5000 and Global 6000 aircraft by offering 700[nm] and 600nm of additional range, respectively, coupled with an up to 13% fuel burn advantage, contributing to highly favorable operating costs versus smaller competing aircraft with less range," the company says.
Bombardier announced development of the Global 5500 and 6500 at 2018's EBACE show in Geneva. The new aircraft have purpose-built Rolls Royce Pearl engines and a redesigned wing. The Pearl 15s burn 7% less fuel per pound of thrust than the R-R BR710s, which power the older Global 5000 and 6000.
The 16-passenger Global 5500 has a 5,700nm (10,600km) range, allowing it to fly routes such as Sao Paulo-Paris, while the 17-passenger Global 6500's 6,600nm range allows that model to connect cities like Hong Kong, Beijing or Shanghai to major destinations such as London, Milan or San Francisco.
By comparison, the Global 5000 has a 5,200nm range and the 6000 has a 6,000nm range