Bombardier has now delivered 350 of its Challenger 350 super-midsize business jets, a milestone the company says comes as it continues rolling out technology updates.
The Montreal airframer launched the 10-passenger 350 in 2013 at the EBACE show in Geneva, pitching the jet as a competitor to the Falcon 2000S, Gulfstream G280 and Textron Aviation Cessna Citation Latitude.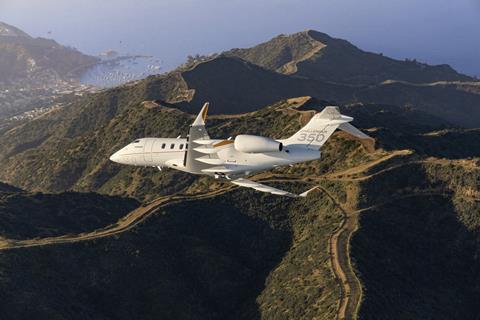 Deliveries of the Honeywell HTF7350-powered 350 began in 2014 when Bombardier handed over the first aircraft to launch customer NetJets.
The global Challenger 350 fleet has now logged some 648,000h of flight time and 383,000 landings, according to Bombardier.
The company says the jet stands apart thanks to its "intercontinental range" with a full load of fuel and eight passengers. The jet has 3,200nm (5,930km) range, top speed of Mach 0.83 and a service ceiling of 45,000ft.
Bombardier notes it has steadily rolled out Challenger 350 updates, including the 2018 introduction of a Rockwell Collins head-up display and enhanced vision system. That system is available on new build aircraft and as an optional retrofit of used jets.
Bombardier also developed a performance improvement package allowing Challenger 350s to fly an additional 1,500nm when operating out of short runways. That package consists of changes to the type's rudder authority, and enables the jet to operate from the popular Santa Monica airport in California.
Additionally, Bombardier unveiled sound-proofing enhancements that reduce the 350's cabin noise by an additional 1-2 decibels, the company has said.