Three days after a strike began, Bombardier has reached an employment deal with the union representing employees at its Global business jet manufacturing site in the Downsview section of Toronto.
The strike started on 27 July and has involved Downsview-based employees of both Bombardier and De Havilland, which makes Dash 8-400 turboprops at the site.
The union, Unifor, has been negotiating contracts with both companies and has not reached a deal with De Havilland. De Havilland did not respond to a request for comment.
Media reports say Unifor's strike against De Havilland continues, though neither the union nor De Havilland confirmed.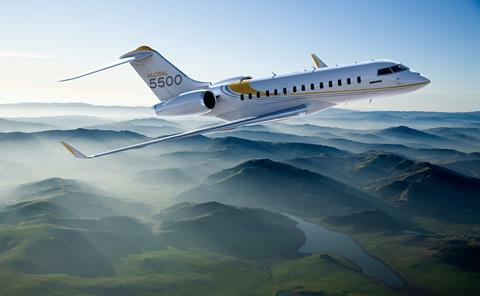 "Reaching a settlement with Bombardier brings us one step closer to resolving the labour dispute at Downsview. Our union can now focus all of its efforts on reaching an agreement with De Havilland," says Jerry Dias, national president of union Unifor.
Bombardier confirms coming to terms, saying "the mutually beneficial agreements will help secure the future of aerospace manufacturing in Toronto".
The airframer expects its Global work will resume next week assuming Unifor members ratify the agreement. It vote is scheduled for 31 July.
De Havilland declines to comment other than to says its negotiations with Unifor are ongoing.
At Downsview, Unifor represents some 1,500 unionised Bombardier workers (though Bombardier puts the figure at 1,200 active workers) and 700 De Havilland workers.
The two work groups were under Bombardier until that company sold the Dash 8 programme to De Havilland in 2019. Bombardier says its contract with Unifor is separate from De Havilland's.
The dispute comes as both companies prepare to relocate production out of Downsview because the site's owner plans to shutter a runway there in 2023. De Havilland intends to end Dash 8 production this year, and restart at an undisclosed time at an undisclosed location. Bombardier intends to transition Global production to nearby Toronto Pearson International airport, with a site there coming online in 2023.
Unifor workers began striking against both companies on 27 July following expiration of a negotiation deadline.
Discussions with Bombardier involved topics such as "pensions, use of contractors and erosion" of union work, Unifor said. Talks with De Havilland centred on its relocation, with the union urging the airframer to keep production in the Toronto area.
The newly reached deal with Bombardier is a tentative three-year agreement, Unifor says. It has not disclosed more details.
Story updated on 30 July to include a comment from Bombardier about production restarting next week.