Canada's Bombardier has received a firm order for 10 aircraft from an undisclosed existing customer worth $452 million.
The Montreal-headquartered airframer says on 30 June that it is the largest order of the year so far. It declines to disclose the jet mix "for competitive reasons".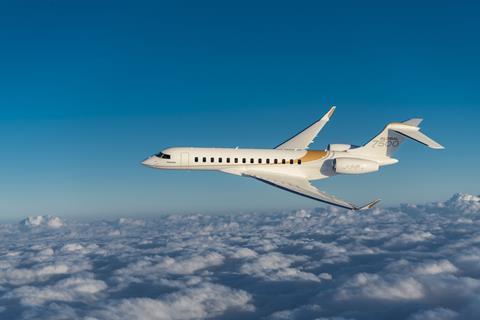 Since the beginning of the Covid-19 pandemic, the business jet sector's performance has been bumpy, but it has, in any case, fared much better than its commercial counterpart.
With airline networks slashed and concerns over catching the virus in crowded airports and cabins, some high-end travellers switched to private aircraft for essential trips, in addition to using such aircraft for leisure travel when restrictions permitted.
Bombardier said in May that its operating business lost $251 million in the first quarter of 2021. However, the airframer also said at the time that it had turned a corner and an upswing in business was on the way.
Following a series of divestments Bombardier's business jet division is now the backbone of the company: it generated $1.3 billion in first-quarter revenue, up 18% year-on-year. The company delivered 26 business aircraft during the three months, including eight of its flagship Global 7500s, matching overall output for the first quarter of 2020.