Bombardier chief executive Alain Bellemare is to depart just weeks after the sale of the Canadian firm's rail division left it as an exclusively business jet manufacturer.
He will be replaced on 6 April by former Bombardier executive Eric Martel, who has been in charge of Hydro-Quebec for the past five years.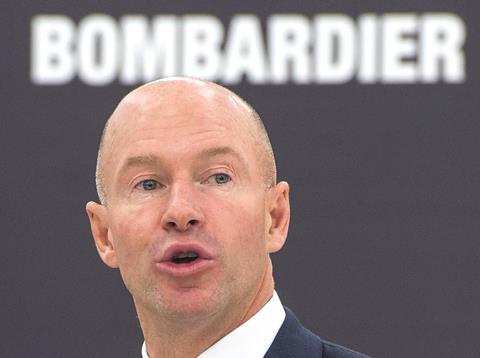 Bellemare has led the Canadian airframer through one of the most troubled periods in its history. Joining in 2015 after running United Technologies' propulsion arm, he presided over a five-year "turnaround" programme that saw the company offload more than half of its assets to reduce debts mainly resulting from the development of the CSeries.
During that time, Bombardier exited the regional aircraft segment, agreeing to sell its Q400 turboprop and CRJ businesses to Longview Aviation Capital and Mitsubishi Heavy Industries, respectively. Last year, it said that it was transferring its Belfast-based aerostructures operation to Spirit AeroSystems, and this year it divested its final stake in the A220 programme – formerly the CSeries – to Airbus.
The imminent sale of its rail transportation unit to Alstom means that only its business aviation division remains. That unit – comprising the Global, Challenger and Learjet brands – has revenues of around $7 billion.
During his time at Bombardier – he left in 2015 – Martel served as president of the business aircraft division and president of the customer services and specialised aircraft unit. He was previously with Pratt & Whitney, Rolls-Royce, and Procter & Gamble.
Pierre Beaudoin, chairman of Bombardier and chief executive at the time the CSeries was launched in 2008, says Martel "is the right leader at the right time". He adds: "He is an engaging builder with a deep understanding of our organisation and product portfolio, as well as of the global business aircraft industry."
Bombardier says its board and Bellemare himself "unanimously concluded that it was the appropriate time for a new leader to take the helm".