Bombardier continues to study the feasibility of developing the Global 8000 business jet, but executives express no indication they are any closer to green lighting the long-stalled large-cabin jet programme.
"I think the 8000 is something we are still assessing. We will continue to assess what the market needs," Bombardier chief executive Eric Martel said on 5 August when asked about the status of the Global 8000, a programme that has been in limbo for several years.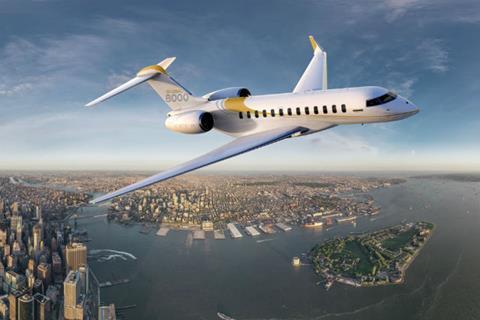 Bombardier launched the jet and its sister ship, the Global 7000, in 2010. At the time, the company advertised the 17-passenger Global 8000 as having 7,900nm (12,964km) of range, and the 19-passenger Global 7000 as having range of 7,000nm.
Bombardier developed the Global 7000 first and has not seemed to progress with the Global 8000.
Then in 2018 it upped the Global 7000's range to 7,700nm, changing the jet's name to the Global 7500 in the processes. That performance boost significantly cut the Global 8000's range advantage over its sister aircraft, though Bombardier executives have said the Global 8000's figures could potentially also be tweaked.
Bombardier delivered the first Global 7500 in December 2018. Meanwhile, the Global 8000 project has seemed stalled, with executives repeated stressing they will focus on maturing the Global 7500 programme before turning attention to the Global 8000.
"We are very happy with the success of the 7500," Martel says. "No, it doesn't mean we will never do the 8000."
He does not comment further. But although Bombardier's financial performance has improved markedly in recent quarters, Martel says the pandemic continues to pose risks.
"There is still a lot of uncertainty out there, with what is happening with the pandemic," he says.