Bombardier has inaugurated its expanded London Biggin Hill service centre, the fourth new or significantly enlarged maintenance facility it has opened this year.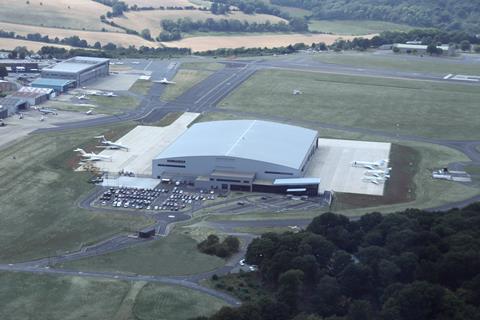 It comes as the Canadian airframer aims to grow its aftermarket revenues by a quarter to $2 billion by 2025 – equivalent to half the market for servicing Bombardier aircraft.
It also mirrors a wider trend among Bombardier's competitors in the large business jet segment to bring more service work in-house rather than rely on independent, approved third-party providers.
The hangar at the Southeast London general aviation airport has 22 bays, capable of accommodating 14 Global 7500 aircraft, and is more than double the size of the nearby Hangar 510 facility it replaces, which Bombardier moved into in 2017.
It completes a busy year in the aftermarket for Bombardier, which also opened its first Australian service centre in Melbourne, enlarged its Singapore site, and replaced Fort Lauderdale, Florida with a much bigger facility in Miami.
Growing aftermarket revenues is a "key pillar of our strategy", says Jean-Christophe Gallagher, executive vice-president, services and support and corporate strategy. "The backbone of that is investment in our facilities worldwide."
Bombardier taken a different route to its two main rivals, which overnight grew their in-house aftermarket business via acquisition, with Gulfstream parent General Dynamics buying services group Jet Aviation in 2008, and Dassault picking up ExecuJet's MRO division in 2019.
Instead, says Gallagher, Bombardier decided around 2016 to "do it organically" by establishing new-build facilities and, at the same time, reducing its network of independent service stations from around 70 to just 15 today.
Bombardier, which claims that Biggin Hill is the UK's biggest manufacturer-owned maintenance facility, has one other European service hub in Berlin, with smaller stations at a number of airports including Paris Le Bourget.
A notable gap in its network is the Middle East, where Bombardier had a joint venture with ExecuJet in Dubai. "There are key markets where we have only made modest investments, and it would be an easy conclusion that there are more things to be done in that region," says Gallagher.
The Biggin Hill facility has been operational since July and Bombardier postponed a planned inauguration in September following the Queen's death.
Bombardier has had to invest in larger sites largely because its aircraft are becoming bigger, says Gallagher. The company has a two-year backlog for its flagship Global 7500/8000 types.
Upgrading older aircraft is also becoming more popular, and Gallagher believes that most customers want this work overseen by the original manufacturer. "A big change in recent years is that most of our production line technologies are now available as retrofits," he says.
Bombardier has also partnered with Austrian cabin furniture specialist F-List to provide interior refurbishments at Biggin Hill since 2019. F-List will set up an interior shop in the new premises.
Bombardier announced in May that Jetex would be its preferred FBO (fixed-base operation) provider at Biggin Hill. The Dubai-based company has already moved into an FBO facility at Bombardier's former Hanger 510, previously occupied by Signature.
Lithuania's Avia Solutions Group (ASG) has bought the building itself and will share it with Jetex. ASG last year acquired RAS Group, an aircraft painting and completions house based at Biggin Hill and plans to move the business into the hangar vacated by Bombardier.
The airport's commercial director Robert Walters hopes that Bombardier's investment will be a "honeypot" to attract more businesses to Biggin Hill. A 56-bedroom hotel, which will largely accommodate crews, engineers and other visitors to the airport, is due to open early next year.