The business aviation industry might be more insulated from coronavirus fallout than the commercial sector but likewise faces an unknown future as corporations globally restrict or outright prohibit business travel.
But despite an uncertain outlook, demand for business aviation has by some accounts spiked in recent days as more virus-countering travel restrictions took hold.
My Sky, a Swiss business aviation data collection and analysis company, says private jet bookings on 12 March were up 96% from the same day last year.
"What we can definitely see is… an increase in demand and private jet bookings over the last couple of days," says My Sky's global strategy director Christopher Marich. "Currently, it's definitely a boost, but it's short term."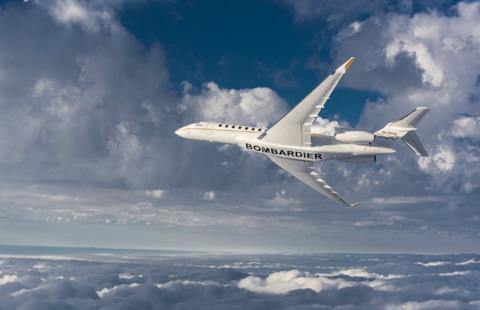 The 96% bump came the day after US president Donald Trump announced the US will ban most foreign nationals from 26 European countries from entering the USA for 30 days starting 14 March.
The ban led airlines to outright cancel weeks of international flights, leaving many people in Europe scrambling to return to the USA before midnight tonight, according to reports.
Marich notes some travellers are booking jets "whatever the price".
"This is a short-term situation because, for now, people are looking for different ways to fly than commercial," he says.
Industry trade body, the National Business Aviation Association (NBAA), says the coronavirus' impact on its industry remains largely unknown, adding it has not yet seen hard economic impact figures.
One thing is known – that many major corporations have already restricted or outright banned company travel. But whether such bans apply also to business aircraft travel is likely a company-by-company decision.
"The companies that rely on business aviation… are probably making decisions about the use of their airplanes that are well-informed," NBAA says.
Global events that significantly depress commercial air travel – pandemics, for example – tend to cause a slight uptick in business aviation travel, but not a long-term uptick, says Teal Group aerospace analyst Richard Aboulafia.
There's never been a "sustainable" boost in the business aviation industry "resulting from a pandemic or terrorist event", he says.
Aerospace experts agree the current downturn seems to have more unknown factors that past slides. Some analysts still believe the virus impact will be relatively short lived, followed by a recovery of many sectors.
But Aboulafia notes others are questioning whether the virus fallout could be much, much more disruptive, possibly leading countries to tighten borders for the long term and shift away from globalisation.
All bets are off "if we are in for a sustained bear market and an equally terrifying downturn in corporate profits", Aboulafia says.
My Sky's Marich suspects the desperation that fueled demand for business jets in recent days will quickly subside. Corporations are now just trying to get people home. Once they are home, demand for business jet travel will likely wane due to corporate travel bans, he suspects.
But Marich doubts the slowdown will as significant as that experienced by airlines. Delta Air Lines, for instance, on 13 March announced it is grounding 300 jets – one third of its fleet.
Unlike airlines and business jet charter companies, which make money when jets are flying, most corporate and private owners of business jets use their aircraft to help them conduct business, or for pleasure trips. Their jets fly a fraction of the hours commercial jets fly, and do not need to directly generate revenue. If such aircraft are suddenly flown a bit less, the industry will feel a downturn, but likely not a massive tumble, he suspects.
"We are potentially a bit less impacted," says Marich.