CAE plans to base its new Central European pilot training centre in Vienna, with the new site to open in the second half of next year.
In April, the Canadian company had revealed plans to establish a presence on continental Europe but had not disclosed the location.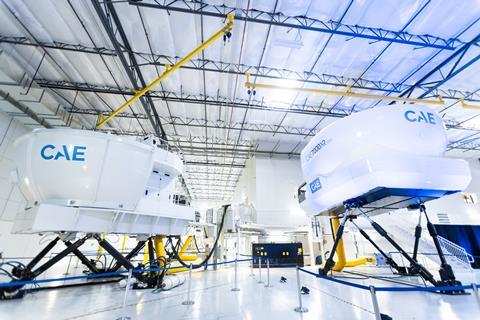 But revealing the location on 22 May ahead of the EBACE show, CAE said it saw a looming surge in demand for pilot training, particularly for corporate jets.
"Following the pandemic, the recovery in business aviation has been very fast," says CAE vice-president of civil and business aviation training Alexandre Prevost. "With the pilot attrition and retention struggle, it creates a very big spike in pilot training demand."
The Vienna facility will be CAE's first pilot training site on continental Europe and will complement its UK and Middle East sites, he adds. "We really based our location on where the customer needs us to be."
The site will house six simulators, including those for Bombardier Global 6000 and 7500 jets – the latter CAE's first for that type in Europe.
CAE has recently been on an expansion push, having in April inaugurated its first US West Coast business aviation training site in Las Vegas. It opened a Singapore site in November 2022 and is expanding near Orlando and in Savannah, Georgia.
Additionally, the company is revamping its master aviation technician training programme, a response to surging demand for maintainers, says CAE director of business aviation maintenance training Sridhar Parthasarathy.
With the changes, CAE expects students will be able to complete the programme in four or five years, down from seven or eight.