Bombardier Defense believes the appointment of a new Canadian defence minister is an opportunity to restate its case that Ottawa should run a contest for its new maritime patrol aircraft fleet.
Teamed with General Dynamics Mission Systems-Canada, the airframer is proposing a militarised version of its Global 6500 to replace the Royal Canadian Air Force's anti-submarine warfare fleet of 15 Lockheed P-3 Orions as part of the Canadian Multi-Mission Aircraft (CMMA) requirement.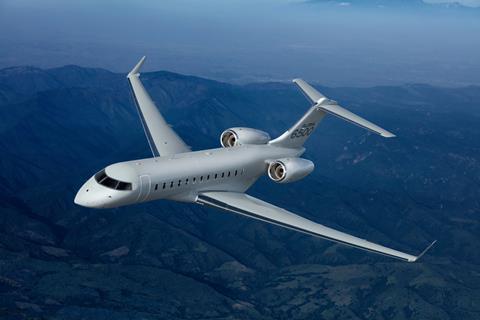 It believes ministers should have the option of a "Canadian solution" alongside the Boeing P-8 Poseidon, which the defence ministry has said is the only platform that meets its specifications.
In an interview at the DSEI defence show in London on 14 September, Steve Patrick, vice-president of the Wichita-based unit, suggested the replacement of Anita Anand, one of the best-known faces of prime minister Justin Trudeau's administration, with the relatively unknown Bill Blair in a July cabinet reshuffle could force a rethink.
"We are seeking to brief the new cabinet and make sure that as individuals come into the post, we get information in front of them to let them know that they don't have to go sole source. Canadian industry is able to provide a solution," says Patrick.
He believes that while its Seattle-based rival may be the only one able to meet the requirement today, Bombardier and General Dynamics could have a solution ready long before the aircraft is due to go into service in 2031.
Patrick is also confident about Bombardier's prospects in NATO's Allied Future Surveillance and Control Capability programme, as the company is partnered with two hopefuls.
L3Harris is offering a solution based on the Global 6500, while Sweden's Saab is pitching the in-service Global 6000-derived GlobalEye to replace the alliance's aging fleet of Boeing E-3A Airborne Warning and Control System jets, which are versions of the 707 airliner. Boeing is likely to be another contender with its operational 737NG-based E-7A Wedgetail.
"As this is a major decision for an aircraft that needs to last 20-plus years, we would advocate that a more modern, optimised, business jet solution warrants serious consideration," says Patrick.
"GlobalEye has been demonstrated that it is ideal for the mission – it is in-service and performing well. L3Harris is now also offering the Global 6500. Boeing will bid and who knows who else, but we are looking forward to the competition. Choices are important."
Bombardier established its Bombardier Defense brand last year at its Wichita, Kansas flight testing and aerostructures campus, where it also used to build Learjets. The intention was to give a fresh focus to the military market by promoting its Challenger and Global aircraft to government customers and potential prime contractor partners.