Dassault is to roll-out its new Falcon 6X on 8 December, marking a key milestone for the ultra-wide-cabin business jet.
Ground tests of the first pre-production aircraft are ongoing at the airframer's Bordeaux-Merignac final assembly site, in line with a first flight scheduled for early 2021.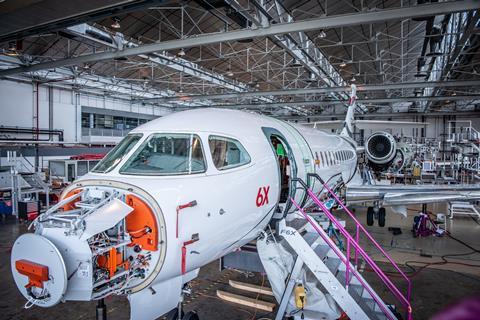 "The roll-out of the Falcon 6X is coming soon…very soon," says Dassault. "The event will take place on 8 December, thanks to the hard work of the development team, which has steadily moved forward over the summer."
A second flight-test aircraft is also complete, with the third example recently having its wing and fuselage mated.
The latter aircraft will also be fitted with a full cabin interior to evaluate systems functionality, acoustics, airflow, comfort and other factors. "Interior furnishings, environmental systems, electronics and other equipment are currently being tested in a ground-test rig prior to installation on the aircraft," says the airframer.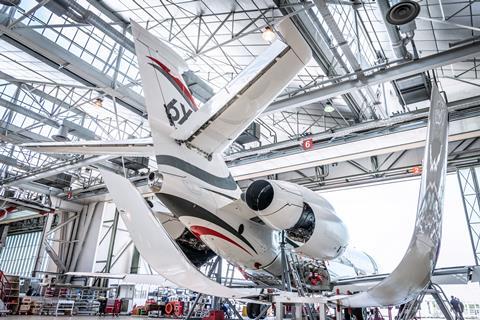 Trials of the twinjet's Pratt & Whitney Canada PW812D engines are also continuing. An initial flight-test campaign was completed earlier this year aboard a Boeing 747 flying testbed, with a second series of flights trials now ongoing.
So far, the engine has logged 200 flight hours and more than 1,600h of ground tests.
Launched in February 2018, the 5,500nm (10,200km)-range Falcon 6X is due to enter service in 2022. It replaces the Falcon 5X which was cancelled in December 2017 due to persistent delays to its Safran Silvercrest engines.
A cutaway drawing and technical description of the Falcon 6X will be published shortly by FlightGlobal.