Dassault Aviation is nearing two key milestones this year for its Falcon business jet family as it bids to reinvigorate sales that slumped by almost two-thirds in 2020.
Having completed a roll-out of its first Falcon 6X in December, Dassault is preparing the ultra-wide-body jet for first flight in the coming weeks, with taxi trials now under way at its Merignac site in southwest France.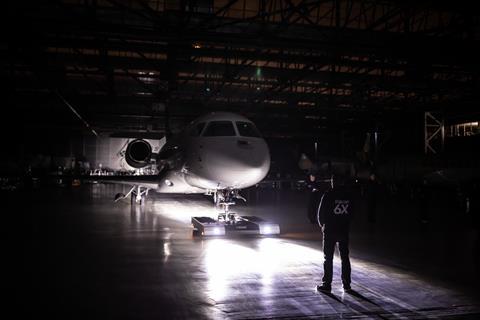 Dassault managed to keep the Falcon 6X development on track throughout the worst of the pandemic last year, working towards service entry in late 2022.
Chief executive Eric Trappier told a 5 March full-year results press conference that although the situation "remains difficult" due to problems at its subcontractors, the start of taxi tests means "we will keep our promise" of a maiden sortie "in the near future".
Work is ongoing on two further test prototypes, plus assembly of the first two serial aircraft is under way.
Waiting in the wings, however, is the airframer's long-trailed "Future Falcon". Trappier promises that it will launch the next-generation jet in the first half of 2021. While Dassault has released no details on the development, it is potentially an ultra-long-range aircraft to take on the 7,500nm (13,900km)-range offerings from Bombardier and Gulfstream.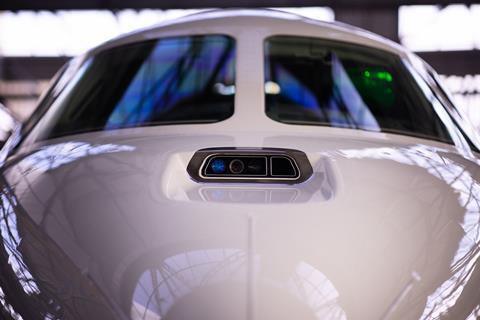 Regardless, Dassault needs to inject new life into its Falcon sales that have been shredded by the coronavirus pandemic and economic crisis. Last year, orders slid to just 15 aircraft, down from 40 the year before. However, seven of those were for the French navy's Albatros programme, meaning that just eight dedicated business jets were ordered.
"Uncertainties led our clients to not order new aircraft," says Trappier. "[2020] was very difficult in terms of new orders."
A relatively buoyant market for second-hand aircraft also depressed sales of new jets, he says, but he expects the arrival of the 6X to have a positive impact.
Dassault shipped 34 Falcons last year, down on its initial guidance of 40 jets, but beating the revised 30-unit forecast; delivery guidance for 2021 is just 25 aircraft. Backlog declined last year to 34 aircraft, including nine aircraft for the French armed forces, from 53 at the end of 2019.