Dassault Aviation has rolled out its newest business jet, with the Falcon 6X making its public debut at a behind-closed-doors unveiling at the company's Bordeaux-Merignac plant.
Speaking at the virtual event, Dassault chief executive Eric Trappier praised the company's employees and its suppliers for their efforts to keep the jet on schedule despite the restrictions imposed by the coronavirus pandemic.
The roll-out of the first aircraft (F-WAVE) paves the way for completion of the ground-test programme and system checks that must be performed before the maiden sortie, which is scheduled for early 2021; service entry is due in 2022.
Propulsion supplier Pratt & Whitney Canada has recently completed ground and flight tests of the aircraft's PW812D engines, accumulating 2,500h, including 300h aboard its Boeing 747 testbed.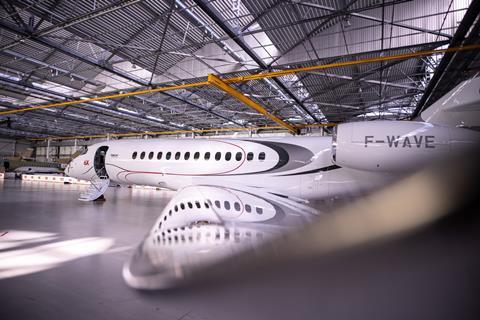 "The Falcon 6X represents a major step forward for large-cabin business jet operators," says Trappier. "Its award-winning cabin – the tallest and widest in business aviation – provides levels of spaciousness, comfort, productivity and safety that will set a new benchmark in the long-range segment."
Dassault promises the Falcon 6X will have a 5,500nm (10,200km) range and a top speed of Mach .90.