Dassault Aviation is promising to reveal more details about its "Future Falcon" business jet by June, as it prepares to take on new launches from rivals Bombardier and Gulfstream.
However, speaking at the company's annual results presentation in Paris today, chief executive Eric Trappier refused to be drawn on a precise launch date, or what segment the type will serve, other than to confirm that its mission will be "different to the 6X".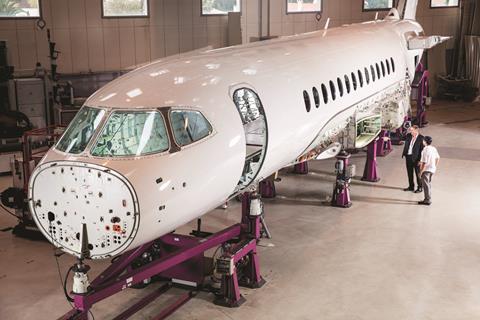 The 6X, Dassault's in-development twinjet, which is due to fly in the first quarter of 2021, has a range of 5,500nm (10,200km).
Dassault is also holding firm to its forecast for 40 Falcon deliveries this year despite growing concerns about the impact of coronavirus and other economic headwinds on the business aviation sector. In 2019, the French airframer shipped five fewer examples than its original forecast of 45. Its Falcon backlog stood at 53 at the end of December.
Trappier says Dassault's "first target" is to have the Pratt & Whitney Canada PW812D-powered 6X ready to fly in quarter one next year and enter service in 2022. He admits that the decision to abandon the previous 5X programme in 2017 after problems with the Safran Silvercrest engine set the company's fortunes back several years.
"Obviously we lost what we had in the book for the 5X, but we would have continued to get more orders since 2017, so we are suffering because we do not have that in the inventory," he says.
Noting that the PW812 is now being tested and the first units for the 6X are being assembled, he adds: "Our focus now is being on time for 2022. We are confident as the engine is on time."
Trappier also says the new Falcon will be the first to be designed totally using the 3DExperience software platform from sister company Dassault Systemes.