Textron Aviation says it is on track for a first flight later this year of its Denali single-engined turboprop, after the aircraft – newly rebranded as a Beechcraft product – was powered on for the first time earlier this month.
That milestone followed the installation of the FADEC-equipped GE Aviation Catalyst engine, says Textron Aviation.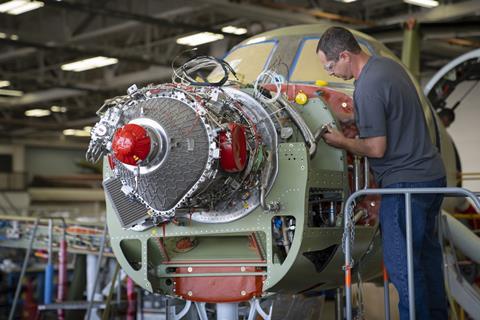 "Engine runs are anticipated in August, followed by a first flight for the aircraft projected for later this year," it says.
Two additional Denali flight-test vehicles are planned, along with three ground-test articles; certification is anticipated in 2023.
When it was unveiled in 2015, the Denali was expected to fly in 2019, with certification following around 18 months later. However, delays to the development of the 1,300shp (970kW) Catalyst had a knock-on effect on the aircraft's timeline.
Although launched as a Cessna aircraft, parent Textron Aviation has decided to "realign" its turboprop offering, bringing the Denali under the Beechcraft banner alongside the twin-engined King Air family.
"Beechcraft turboprops are renowned for their versatility and reliability, and the single-engine Denali is a perfect complement to this legendary family of products," says Ron Draper, Textron Aviation chief executive.
The Denali promises a cruise speed of 285kt (528km/h) and a range of 1,600nm (2,960km) with one pilot and four passengers.
However, the standard configuration seats six passengers, or nine in a high-density layout.