Dornier Seawings says a €300 million ($363 million) funding boost from China will allow it to continue the flight-test campaign for its reborn Seastar CD2 amphibian, and launch serial production.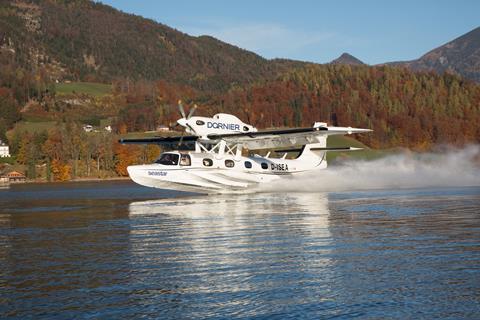 The money comes from a bond issue in Hong Kong, backed by its majority Chinese shareholder and other institutions, says Dornier Seawings.
The German company – in which the Dornier family are minority shareholders alongside Wuxi Communications – aims to fly a second prototype by the first quarter of 2022. The first test aircraft took to the skies on 28 March 2020, just as the pandemic was taking hold in Europe, and had completed around 30 flight hours by May 2021.
Oberpfaffenhofen-based Dornier Seawings is targeting entry into service in the first half of 2023 for what it calls the "world's most advanced amphibious aircraft", considerably later than the target of 2021 when the programme was acquired in 2013.
The Pratt & Whitney Canada PT6A-135A-powered CD2 was launched in 2016, a quarter of a century after financial problems forced Dornier to halt production of the original Seastar design before any were delivered.
Dornier says the new-generation programme – which includes a revamped interior, corrosion-resistant composite structure and landing gear, a hydraulic, steerable nose gear, five-bladed MT Propeller composite propellers, and Honeywell Primus Epic 2.0 flightdeck – remains "on track", with the company "making every effort to promote the manufacturing" of the second prototype.
The 12-seat aircraft has a maximum take-off weight of 5,100kg (11,200lb), a cruise speed of 180kt (330km/h) and a range of 900nm (1,670km). Dornier will offer it in configurations including cargo, passenger, special mission and VIP.