Embraer has delivered the first Praetor 600 to Flexjet as part of a 64-aircraft deal announced at the National Business Aviation Association convention in October last year, which also includes Praetor 500s and Phenom 300s.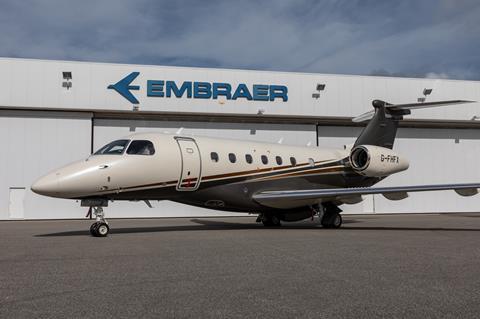 The fractional operator was last year the launch customer for the super-midsize type's midsize sibling, the Praetor 500. The aircraft will be part of Flexjet's European-operated fleet, which also includes the Gulfstream G650.
Flexjet has a long relationship with Embraer. In 2003, Flight Options, which merged with Flexjet in 2015, became the first fractional ownership programme to operate Embraer's original Legacy 600 business jet. The company later introduced the Phenom 300 and was the first fractional to offer the Legacy 500 in 2015. The Directional Aviation subsidiary operates more than 70 Embraer executive jets.
The eight-passenger Praetor 600 was was launched in October 2018 as a derivative of the Legacy 500, featuring more powerful Honeywell HTF7500E engines, new winglets, additional fuel capacity, a range of 4,000nm (7,400km) and a new interior. The Praetor 500 is an update of the Legacy 450.