Honda Aircraft has delivered the first HondaJet Elite to a Chinese customer, four months after it was certificated by Chinese civil aviation authorities.
Honsan General Aviation, a Honda Aircraft exclusive dealer based in Guangzhou, China, took delivery of the aircraft at Honda Aircraft's world headquarters in Greensboro in the United States.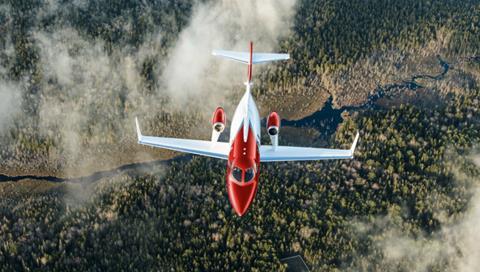 The airframer states that the aircraft delivery is being financed by Japanese lessor Mitsubishi UFJ Lease & Finance.
Honsan General Aviation will provide sales and service at Guangzhou Baiyun international airport's business jet terminal.
In 2017 Honda Aircraft expanded its presence in China through a partnership with Honsan General Aviation, which provides HondaJet sales, service and support in the country, including in Hong Kong and Macau.
Honda Aircraft president and chief executive Michimasa Fujino says the first delivery to China was a "significant milestone".
"We will continue to showcase the many benefits of very light jet travel with the HondaJet Elite. We will provide Chinese customers with exceptional performance, efficiency, and comfort on their travels and will add value to the general aviation industry in China and eventually revolutionise it," he adds.
HondaJet unveiled the upgraded HondaJet Elite in May 2018, roughly two-and-a-half years after the 422kt (782km/h) HondaJet HA-420 entered service.
The Elite's auxiliary fuel tank gives it range of 1,437nm (2,661km), 214nm more than the HA-420. The jet carries up to four passengers in the main cabin, though a belted lavatory seat brings capacity to five passengers.
Cirium fleets data indicates that there are 33 Elites in service, with 52 on order.