Gulfstream has operated the maiden flight of its fourth G700 test aircraft, as the company progresses testing for the new type.
The 1h 56min sortie from the company's Savannah, Georgia production facility occurred on Saturday 3 October, says Gulfstream.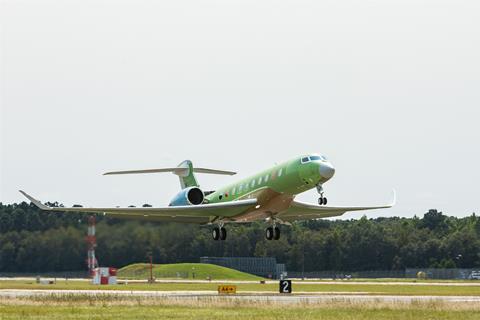 The aircraft reached an altitude of 41,000ft and a speed of Mach 0.89.
The new jet's testing regimen will focus on avionics, the aircraft's environmental control system, mechanical systems, electrical power, and hydraulics.
"This is the fourth first flight we've accomplished within just eight months, and that is a truly impressive feat," says company president Mark Burns.
"I have said it before: what sets Gulfstream apart is that we ensure our aircraft are mature upon certification, so our customers know that what we deliver will be safe, reliable and exceed their expectations."
The first G700 flew on 14 February, and the second and third examples joined the fleet in May. Altogether the G700 test fleet has flown over 600h.
Fully outfitted production aircraft, complete with their interiors, are slated to join the test and certification campaign.
The G700 is powered by two Rolls-Royce Pearl 700 engines.