US fractional jet ownership company Airshare has ordered three Bombardier Challenger 350 business jets and taken options to purchase another 17, with the first three deliveries scheduled for 2021.
The deal will see Airshare, based near Kansas City, add a significantly larger, longer-range aircraft to its fleet of fractionally owned aircraft.
That fleet now includes two light jet types: Embraer Phenom 100s and Phenom 300s.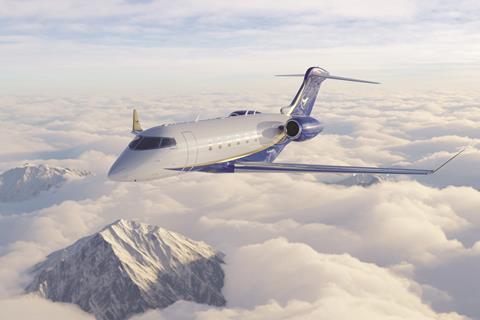 The Challenger purchase deal will enable Airshare "to double the size of its fractional ownership fleet in the near future", the company says.
The sale also marks a notable win for Montreal-based Bombardier at an uncertain time for the business-aviation sector.
The industry has largely weathered the coronavirus downturn far better than the commercial-aviation sector. Still, business jet shipments declined 20% year-on-year in 2020, to 644 aircraft, according to the General Aviation Manufacturers Association.
Airshare describes Challengers as a "catalyst" that will enable it to expand beyond its core markets in the central USA. The company aims "to soon begin serving customers on the East Coast", it says.
Challengers, with twin 7,323lb-thrust (33kN) Honeywell HTF7350 turbofans, have capacity for 10 passengers and 3,200nm (5,926km) range, according to Bombardier.
By comparison, Phenom 100s have 1,730lb-thrust Pratt & Whitney Canada PW617 turbofans, carry up to four passengers and have 1,178nm range. Phenom 300s have capacity for eight passengers, 3,478lb-thrust PW535s and 2,010nm range.
"Partnering with Bombardier puts us in an excellent position to attract future customers who have wanted to join our programme but desired a larger aircraft with greater range," says Airshare chief executive John Owen.
In addition to its fractional-ownership business, Airshare operates other types of business aircraft under its fleet management arm.