German start-up Lilium has secured an additional $240 million in funding from four existing backers as it works to bring its electric-powered short-range aircraft to market.
Led by Chinese technology company Tencent, other investors participating include Atomico, Freigeist and LGT.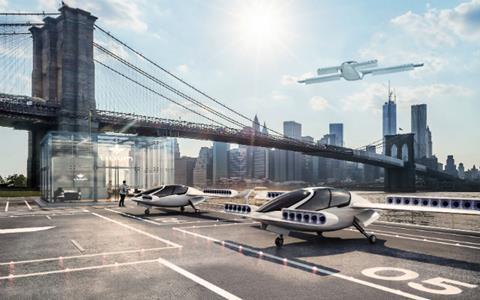 In total, Bavaria-based Lilium has now raised more than $340 million. The latest tranche of funds will be used to bankroll the development of the Lilium Jet and to support serial production at its Oberpfaffenhofen manufacturing site.
Christopher Delbruck, Lilium chief financial officer, says: "This additional funding underscores the deep confidence our investors have in both our physical product and our business case.
"The new funds will enable us to take big strides towards our shared goal of delivering regional air mobility as early as 2025."
As well as developing the aircraft, Lilium plans to operate regional air mobility services itself using the five-seat jet.
Meanwhile, work is under way to prepare the second prototype for flight, which the company describes as being "close".
An earlier prototype was destroyed in a fire on 27 February; root cause analysis of the blaze is continuing, with any required changes to be implemented on the next flight-test article prior to its maiden sortie.
However, the company cautions that it cannot provide a precise timeline, due to general restrictions surrounding the coronavirus outbreak.
The vertical take-off and landing Lilium Jet is powered by 36 electrically driven fans distributed across two sets of wings. It has a projected range of 160nm (300km) and a maximum speed of 160kt (296km/h).