Gulfstream has commenced flights with its second and third G700 test aircraft.
The second aircraft (msn 87007, N703GD) conducted a 2h 58min maiden sortie on 20 March, says the company. On 8 May, the third G700 (msn 87008, N708GA) test aircraft operated a 3h 2min sortie.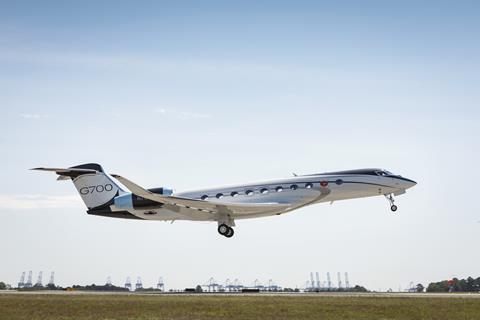 Both flights were conducted from Savannah/Hilton Head International Airport, and achieved an altitude of 45,000ft and a speed of Mach 0.85.
"The G700 flight-test program is running very well, a reflection of the extensive testing we conducted in our ground labs," says Gulfstream president Mark Burns.
"All three flight-test aircraft are performing exactly as we expected them to, and that helps us ensure a safe and thorough certification of the highest performing, most spacious and technologically advanced aircraft in business aviation."
The first G700 test aircraft (msn 87001, N700GA) flew on 14 February. The three aircraft will be used for envelope expansion, flutter testing, flying qualities, flight control, and too look at mechanical systems. Work will also include flights related to icing and environmental control systems.
The type is powered by two Rolls-Royce Pearl 700 engines. The G700 has a high-speed cruise of M0.90, offering a rage of 6,400nm (11,900km). At its long-range cruise of M0.85, it can operate distances of 7,500nm. The wings incorporate an all-new winglet design. The Pearl 700 engines are rated at 18,250lb thrust (81.2kN).
Certification and service entry are expected in 2022.