The potential market for electric vertical take-off and landing (eVTOL) air taxis is endlessly hyped, but huge technological, industrial, regulatory, and social barriers stand in the way of the vision becoming reality. Chief among them are convincing wary regulators these unproven machines are safe to certificate, and persuading a possibly even more sceptical public they are safe to fly in.
But that is not all. Massive funding will be required to ramp up production to ensure profitable unit costs. Air traffic management systems and an infrastructure of vertiports and charging terminals must be created from scratch. Then add to all that the challenge of finding and training pilots for the 47,000 urban air mobility (UAM) vehicles consultancy Roland Berger predicts will be in the skies by 2040.
The biggest dreamers among the multiple start-ups hoping to be pioneers of this brave new world envisage a future where eVTOL platforms will fly autonomously – descending to transport granny to the shops at the command of an app. However, the near-term reality will be very different, with pilots at the controls, and those likely coming from the existing pool of professional flightcrew.
"The consensus is that they will be CPL [commercial pilot's licence]-holders who will have done a type rating and have recurrent training every few months," says Simon Azar, vice-president of strategy, marketing, digital products and adjacencies, civil aviation at Canadian training company CAE, which has signed contracts with several eVTOL developers to create their training programmes.
However, if even the more-sober forecasts of the market prove correct, there simply will not be enough conventionally-trained pilots to support a sector that could be bigger by next decade than business aviation is today. With demand recovering rapidly, US airlines are already warning of a pilot shortage after many older aviators exited the profession during the peak of the Covid-19 crisis.
With a forecast of 10,000 UAM aircraft in service by the turn of the decade, and three or four pilots needed to achieve the steady utilisation necessary for these fledgling operations to make money, training programmes will need to be created at speed, asserts Luiz Renato Mauad Ferreira, manager customer support at Embraer, whose spin-off Eve was an early UAM developer.
However, he admits that "we won't start with that number of pilots". Instead, "we will start with one and scale up very fast. In the beginning we will use pilots with experience to help us certificate the aircraft, but once we have scale we will develop specific training, and we'll see the first eVTOL-trained pilots."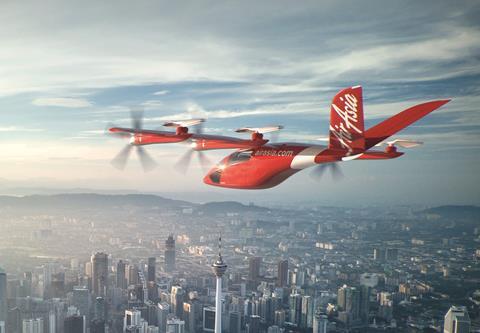 Urban air mobility platforms are a paradox. Every developer stresses their simplicity – Vertical Aerospace expects an 80% reduction in pilot workload compared with a current general aviation aircraft. After all, they are just one step away from autonomous aircraft. "It will be very simple for the pilot to deal with any problem and get the aircraft down," says president Michael Cervenka.
SAFETY CHALLENGE
Another developer suggests learning to fly an eVTOL aircraft will be like training to become a bus driver. However, these aircraft will operate in one of the most perilous environments for any pilot: above cities, and in three dimensions. Unlike a road-based public transport vehicle, in the event of trouble, you cannot just pull over, engage the handbrake, and flick on the hazard lights.
This presents a dilemma for regulators. To put it bluntly, lose control over rural Kansas, and you are probably only going to endanger the lives of those on board. Make crucial errors over downtown Chicago and the lives of dozens of ground-dwellers are at risk. Flying a UAM aircraft might be intuitive, but those in the cockpit will need to know how to cope in umpteen emergency scenarios.
CAE's Azar acknowledges this challenge. "These will be more intuitive to learn to fly than a helicopter or a regional aircraft, but in many ways the operations in urban areas will be even more complex," he says. "As with any training, UAM pilots will have to train to know what to do when things go wrong."
Andre Stein, Eve chief executive, admits coming up with a UAM training syllabus "still has a way to go". However, he says: "We've come a long way since we started down this road in 2016. Back then, there were discussions over whether we even needed a pilot. Now, there is agreement a certified pilot will be required, but the level of training is part of ongoing discussions with regulators."
He says flying a simulator since mid-2020 has helped designers of Eve's eVTOL prototype understand the requirements. "It is a future autonomous vehicle so it is all about simplifying workload and reducing what the pilot needs to be aware of," he says. "The fly-by-wire system takes all the hard decisions, and there is no rudder or flaps. The pilot is more of a flight manager than active pilot."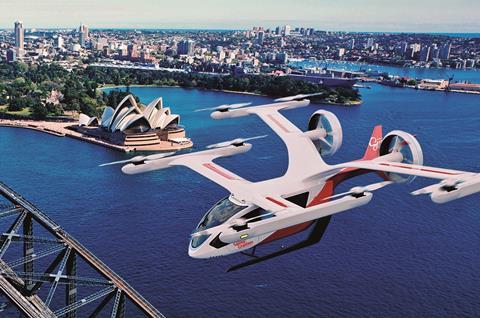 He continues: "We are on exactly the same page as the authorities when it comes to making safety the number one priority, but what is new is how that safety level will be assessed. Will the authorities be willing to embrace the OEMs' ways of ensuring safety compliance by using new tools, for instance?"
Vertical's Cervenka agrees that those behind the controls of the first eVTOL types on the market will be retrained commercial pilots. "But there is a massive opportunity to really benefit from these aircraft being much easier to fly," he says. "We will have to address pilot training that matches the capabilities of the aircraft."
The "elephant in the room", he argues, is what air traffic management protocols pilots will have to follow. If regulators impose rules similar to those for helicopters – which in most cities have to follow strict corridors, such as along rivers, for noise and safety reasons – "no eVTOL is certifiable", he says. However, he welcomes "encouraging proposals" from the European Union Aviation Safety Agency (EASA).
One of the most striking aspects of the young UAM sector has been the faith shown by established airlines in some of the developers, including Eve and Vertical. Manfred Hader, head of aerospace at Roland Berger, notes that of the roughly 8,700 published orders or other commitments for eVTOL aircraft, airlines and leasing companies make up almost a third, the largest chunk of customers.
The interest from the likes of AirAsia, American Airlines, Azul, Finnair, Japan Airlines, United Airlines and Virgin Atlantic is often portrayed as being about diversification and improving customer service – airlines looking to provide end-to-end transport for premium passengers in the way that they might today with chauffeur pick-ups. However, there might be another motive.
As mentioned earlier, US carriers in particular are again struggling to find air crew after the hiatus of the pandemic, exacerbated by a Federal Aviation Administration requirement for co-pilots to have flown 1,500 hours. While the shortage is not worldwide, many airlines wonder how they will attract aspiring pilots in a global economy where competition for bright graduates is at a premium.
One way could be to offer them the chance to attain cockpit experience flying an eVTOL aircraft. "Several airlines coming into this space have been talking about how they could use it to feed into their networks, both in terms of talent as well as operations," says Azar. "Why not help them get to their 1,500 hours flying an eVTOL?"
Eve's Stein suggests that, so long as regulators and the industry can agree on the rules, the new UAM sector "will create a pipeline of new pilots, where they start on an eVTOL and move up to a commercial aircraft". By working with airlines, developers will help to create "a natural pathway for career progression", he says.
Volocopter is one of the companies working with CAE to devise a training syllabus for pilots of its two-seat VoloCity vehicle, which it hopes will enter service in 2024. Under the agreement, Volocopter is purchasing a simulator from CAE, which will be used to certificate its pilot training programme. Meanwhile, CAE will create courseware for later flightcrew.
"Requirement sets are currently in development between EASA and us. This will include an initial path for existing pilots to obtain a type rating, building on either fixed-wing or rotary aircraft licences," says the German company. "Once we have this, we will work with CAE to develop the theoretical and practical training for future pilots."
Volocopter adds: "We have a handful of test pilots registered with the authorities who are allowed to fly the Volocopter. That number will grow due to the ever-growing demand for air taxi pilots once our commercial operations start. We are preparing pilot training set-up, which allows us to begin training ahead of market launch, so we have sufficient pilots available once we need them."
THOUSANDS A DAY
CAE has also announced a contract to develop pilot training devices for US start-up Joby Aviation, which intends to both develop and operate its own eVTOL aircraft. "We look forward to a world where thousands of Joby pilots are flying our aircraft every day and we couldn't ask for a better partner to help make that a reality," says Joby's head of air operations and people Bonny Simi.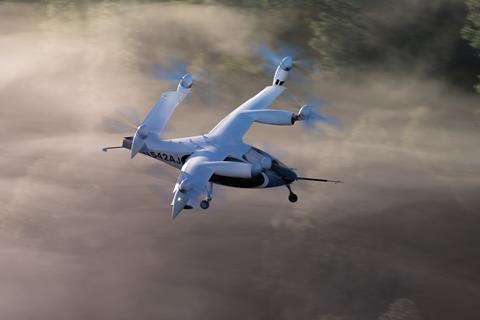 CAE's rival FlightSafety International is also getting involved in the sector, in a move tied with fellow Berkshire Hathaway company NetJets' decision to purchase up to 150 eVTOL jets being developed by German company Lilium. NetJets will work with Lilium to come up with a business model, starting with an operation in Florida.
For its part, FlightSafety will develop training courseware as well as "mixed reality" training devices for Lilium. "Our focus on technology and adaptive learning will help prepare aviation professionals with the highest levels of expertise to support operation of the Lilium Jet," says Brad Thress, chief executive of the US training provider.
Other than a few tentative flight tests of prototypes, few eVTOL aircraft have even yet got airborne. Yet, in just a few years, if forecasts prove correct, the skies could be full of them, and the sector a major employer of newly-qualified aviators. Azar acknowledges many challenges remain, but says establishing and qualifying instruction programmes is a priority. "The industry has left the station," he says. "For us to get to the next one, we are going to need a lot of trained pilots."