Hybrid Air Vehicles has unveiled a production design for its Airlander 10 to replace a prototype grounded in November 2017 after a second incident during flight testing, as it steps up its certification efforts.
The Bedford, UK-based developer says it is "in negotiations" for the first four production slots, based on letters of intent for "over 10 aircraft" from organisations in the tourism and "clean technology" sectors.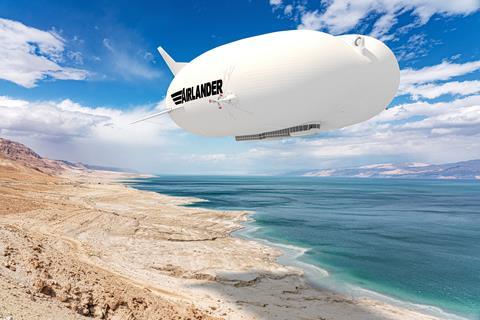 Changes to the aircraft include a 5% longer and slightly wider gondola at 46m x 6m (151ft x 20ft), with the fuel module moved into the hull instead of being suspended, although a shorter cabin is available, says the company. There is also a lower-drag shape, and retractable rather than fixed landing gear. In addition, a bow thruster has been added, propulsors have been unducted, and nose is more "rounded".
HAV chief executive Tom Grundy says the new features will "provide the flexibility needed to deliver the unique experiences the commercial market is keen to offer its customer" and are "an important milestone on our path to certification". He adds: "Our current negotiations are the result of the strong interest in providing responsible travel experiences that we've been seeing in the commercial sector."
Grundy adds that the company is "working to secure" investment for a production facility. HAV has a design centre in Bedford and built and flew the prototype at one of the giant hangars in Cardington that were home to the UK's first airship project over 100 years ago.
Last year, HAV stepped up efforts to market the aircraft – originally conceived for a subsequently cancelled US Army requirement – to commercial customers, including the high-end leisure sector. It installed a luxury cabin mock-up, built by the Design Q agency, at its Bedford site. The 15m-long walk-in demonstrator was intended to show what an interior might look like in VIP configuration, with features such as panoramic, floor-length windows and eight double bedrooms.
To tap into the "green tourism" market, HAV also said it was working with Collins Aerospace on an electric power system to replace the four Thielert diesel engines.
However, Grundy still expects defence customers to make up half of Airlander 10 sales and in September it announced a tie-up with US modifications and maintenance specialist Vertex Aerospace to "present joint proposals" to the US Department of Defense.
The company has said it plans to begin flight testing "by the early 2020s" with deliveries from 2024.