Jet Aviation has delivered its first VVIP-completed Airbus ACJ319neo to an undisclosed customer.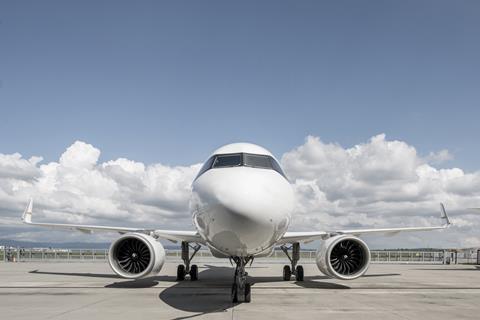 The CFM International Leap-powered aircraft is the latest example of the re-engined narrowbody to go into service, and the first ACJ320neo family aircraft to be outfitted at the Swiss business aviation services group's Basel site.
Jet Aviation has a further ACJ320neo undergoing completion, and is scheduled to receive a second ACJ319 in late 2021.
The General Dynamics-owned company says the project took "less than nine months from aircraft induction to redelivery".
The launch of the corporate version of the A319neo and A320neo in 2015 led to a flurry of orders and the first examples have begun to enter service. In August, rival Comlux Completion handed over its first outfitted ACJ320, and is working on two other completions due for delivery in the first half of 2021 and the third quarter of 2022.
The first ACJ320neo was handed over green to launch customer Acropolis Aviation of the UK in January 2019, before undergoing completion at Jet Aviation's Basel neighbour AMAC Aerospace.
Jet Aviation says the ACJ319neo has the "quietest cabin" of any large business aircraft completed at Basel. It says its in-house studio collaborated on the concept with the client's own design team, with features including "decorative mirrored panels" to maximise light in the cabin, and a "custom embroidered art panel depicting an Oriental scene" in the master bedroom.