A lag in restoring pre-pandemic routes by airlines will boost private aviation operators as business travel returns over the next 12 months.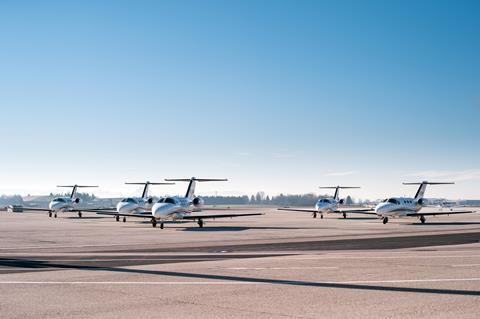 That is the view of Bernhard Fragner, chief executive and founder of Austrian charter operator GlobeAir, who believes the light- to medium-size jet segments will be the main beneficiaries, as they are most affordable for travellers switching from commercial flights.
"Airlines are not immediately coming back to pre-corona levels, so a lot of direct routes will be lost," Fragner today told a panel session at EBACE Connect, the virtual replacement for the annual business aviation convention.
Fragner, whose company is the world's biggest operator of the four-passenger Cessna Citation Mustang, says the role business aviation has played during the pandemic in offering repatriation flights and maintaining essential travel links is reversing popular perceptions about the sector.
"The press business aviation has had over the past 12 months has been fantastic. It is the first time that I have been in business that I can recall such positive coverage," he says.
A lack of availability of commercial flights during the crisis has also boosted traffic for the lighter business jet segment in the USA, with executives using them for short-haul, often multi-stop itineraries, according to Ian Moore, chief commercial officer of high-end charter operator VistaJet, whose parent company owns US charter provider XOjet.
"We've seen a lot of interest in people utilizing a smaller jet to get around, say, the northeast region," he says.