Leonardo is to supply its Miysis directed infrared countermeasure system for installation on a Bombardier Global 7500 ordered by an undisclosed government customer in the Middle East.
To be employed in the VVIP transport role, and "the first of its type to be selected by a government customer", the ultra-long-range business jet is due for delivery in 2022, Leonardo says.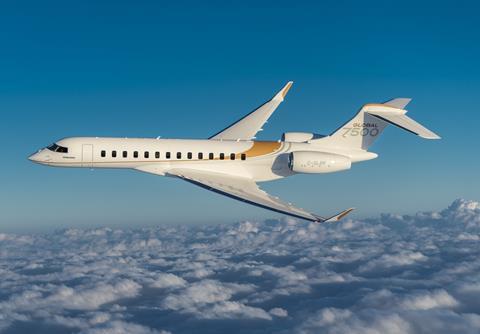 The company says its turret-housed self-protection technology will provide "complete spherical protection for the aircraft and can output more than enough laser energy to protect the Global 7500 aircraft from even the most modern infrared-guided missile threats", including "multiple, simultaneous incoming missiles".
Miysis equipment has previously been acquired for use on the UK Royal Air Force's Beechcraft King Air 350-based Shadow R1 surveillance aircraft fleet, and installed on the Royal Canadian Air Force's Lockheed CP-140 Aurora maritime patrol aircraft.
Leonardo says deals have also been secured with "three other NATO customers, as well as a number of non-NATO customers".