Management and charter operator believes, however, that demand for leisure flights will remain slow until coronavirus vaccine
The executive charter market will see a spike in demand once coronavirus lockdown restrictions are lifted because many business travelers, nervous about using airlines and busy airports, will opt to fly privately.
However, despite a flurry of Caribbean trips and around the start of Europe's ski season this autumn, the high-end leisure market will remain sluggish until a Covid-19 vaccine is widely available, predicts the head of one of the UK's largest aircraft management companies.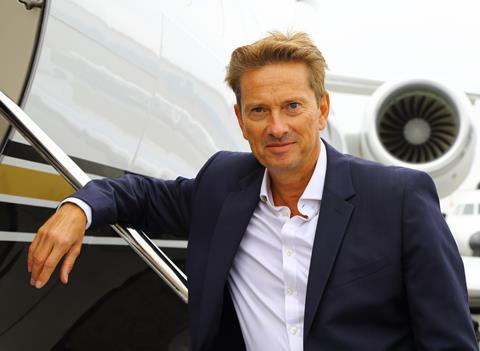 Patrick Margetson-Rushmore, chief executive of Luxaviation UK has also provided an insight into how the firm – which has 15 managed aircraft available for charter on the UK register – has been impacted by the outbreak and its plans to return to full operation.
After the UK lockdown was imposed on 23 March, he says demand "disappeared overnight". From operating around nine flights a day, Luxaviation UK – which is part of the Luxembourg-based Luxaviation Group that also owns ExecuJet – has flown just eight revenue services in six weeks. Most of these have been repatriation flights.
As part of its safety procedures, passengers are required to wear masks and gloves. No food or drink is served and, on larger aircraft, the cabin attendant remains in the galley area. Cabins are "deep sanitized" before and after each flight, he says.
Luxaviation UK has furloughed 70 of its staff under the government's job-retention scheme, but retained 16 pilots and attendants – one crew for each of its seven types – alongside a skeleton backroom team. Rather than mothballing aircraft, it has kept its aircraft on stand-by by doing regular taxi runs, and brought forward some maintenance, says Margetson-Rushmore.
Keeping aircraft and crews flight-ready is costly, he admits, but will make it easier for the fleet to return to service.