NetJets has become the latest big business aviation operator to declare a package of environmental commitments that could deliver a major boost for sustainable aviation fuel (SAF) in the sector.
As well as a commitment to use SAF, the fractional ownership giant, which has a fleet of more than 750 aircraft, says its Global Sustainability Programme will include carbon offset schemes.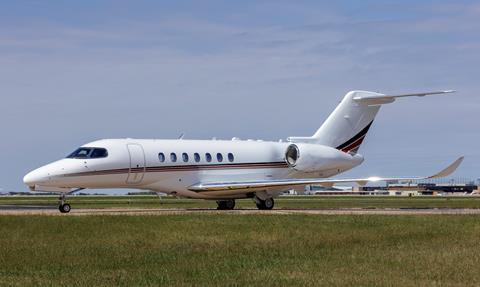 NetJets is to purchase "up to 3 million gallons" (11.4 million litres) of sustainable fuel, enough, it claims, for all its flights out of two airports: San Francisco, where the fuel will be supplied by Neste, and its home base of Columbus, Ohio, in partnership with fixed-base operator Signature Flight Support.
The Berkshire Hathaway-owned company says the move "amounts to an unprecedented volume of sustainable fuel" in private aviation, and "supports the continued industry availability of SAF". It adds that it is "continuing to explore additional SAF purchase opportunities" in the USA and Europe.
NetJets will also encourage fractional owners to purchase carbon credits to ensure their flights are carbon neutral.
It also says it will offset its own administrative and training flights in the USA from 2021, amounting to 1,600 flights a year.
In September, European rival VistaJet launched a scheme to allow customers to buy "biofuel credits" that could be used to purchase sustainable fuel elsewhere in the world in exchange for the conventional fuel burned on their flight. It is partnering with Dutch biofuel provider SkyNRG.
Biofuels account for less than 0.1% of aviation fuel consumption worldwide and, as a result, the price can be twice that of the equivalent conventional jet fuel. Advocates hope that by inflating demand through initiatives such as these, availability will increase and prices reduce.
At last year's European Business Aviation Convention and Exhibition, around 12 business aircraft fuelled by SAF were flown by manufacturers and operators from Farnborough and other European airports to Geneva. At the show a group of business aviation organisations committed to campaign for SAF to become more accessible.