Fractional aircraft ownership company NetJets has signed a deal with Embraer that includes options to order 250 of the Brazilian manufacturer's Praetor 500 super-midsize jets.
Embraer disclosed the agreement on 11 May, saying the orders are worth more than $5 billion. It expects to start delivering the seven-to-nine passenger business jets to Columbus, Ohio-based NetJets in 2025.
"With this new agreement, NetJets signifies not only its commitment to creating an enhanced customer experience… but also its trust in Embraer's industry-leading portfolio and top-ranked support," Embraer says.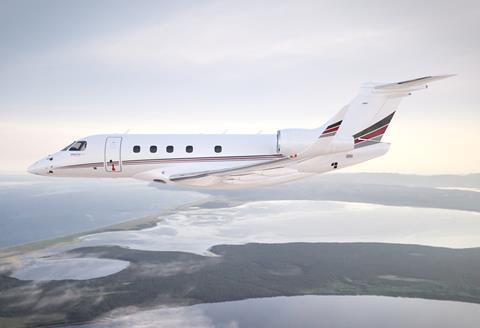 NetJets did not immediately respond to a request for comment.
Embraer says the deal includes "a comprehensive services and support agreement".
NetJets has long operated Embraer aircraft, having in 2010 signed a deal that included orders for 50 Embraer Phenom 300 light jets, plus options for another 75.
In 2021, the companies expanded their arrangement to include another 100 Phenom 300s.
"We are eager to add the Embraer Praetor 500, one of today's most state-of-the-art business jets, to our midsize fleet," says NetJets Aircraft Asset Management executive vice-president Doug Henneberry. "This historic fleet agreement is another way that we are growing our fleet for the benefit of our loyal customers."
Embraer launched the Praetor programme, which includes the nine-passenger 500 and 12-passenger 600, in 2018. The aircraft are upgraded variants of Embraer's Legacy 450 and Legacy 500.
Praetors can carry more fuel than their Legacy siblings, and the new jets have Honeywell HTF7500E turbofans, which produce 500lb-thrust (2.23kN) more than the Legacy's HTF7000s, Embraer has said.
With four passengers, the Praetor 500 has range of 3,340nm (6,186km) and the 600 has 4,018nm range.