Business jet manufacturer Gulfstream saw order activity speed up in the first three months of the year, with that momentum maintained at the start of the second quarter.
Gulfstream recorded a book-to-bill ratio of 1.3:1 in the period ended 31 March, Phebe Novakovic, chief executive of parent company General Dynamics said during a first-quarter earnings call on 28 April.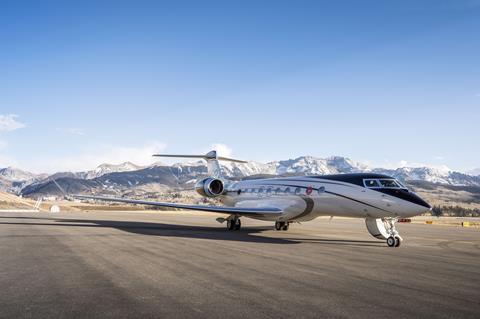 It was, she says, "the strongest quarter for the last two years", save for the three months in late 2019 around the launch of the G700.
Gulfstream's backlog slipped year on year to $12 billion, down from $13.2 billion in the first three months of 2020, but was up on the $11.6 billion recorded at year-end.
Orders began to "accelerate" in mid-February and "continued through the remainder of the quarter", says Novakovic, "and it appears to be rolling into the second quarter as well".
Demand should further increase through the year as travel and quarantine restrictions begin to be relaxed, she adds.
Activity was seen across a "broad section" of its customer base – including from large US corporations as "clarity" on the state of the economy improves; around one-quarter of orders in the period were from US customers.
Deliveries in the first three months hit 28 units – 23 large-cabin jets and three midsize – against 23 in the same period last year (20/3), however, this pace is likely to slow in the current quarter, before a "rapid improvement" in the second half.
A total of 1,400 flight hours have now been amassed by the five-strong fleet of ultra-long-range G700 test aircraft, says Novakovic. The sixth – the first with a fully outfitted cabin – made its maiden flight on 15 April.
The programme remains on track for service entry in the fourth quarter of 2022.
Aerospace revenue for the quarter – which also includes services business Jet Aviation – stood at $1.9 billion, a slight rise on $1.7 billion in the same period a year earlier. Quarterly earnings were down modestly, from $240 million to $220 million.