Piaggio Aerospace is considering the development of a clean-sheet zero-emission business aviation or commuter aircraft to arrive towards the end of the decade.
At present, the company favours a hydrogen fuel cell-based propulsion system for the future aircraft, says chief technical officer Antonio Sollo.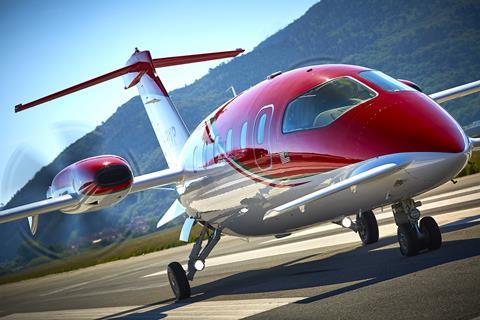 Presenting an overview of the airframer's strategy during a 10 May webinar hosted by green media outlet Climate Transformed, Sollo said Piaggio had rejected a battery- or hydrogen-electric version of its P180 Avanti having conducted several feasibility studies.
"To modify an existing airplane is very, very complicated," he says. "With these novel concepts you have to start with a clean sheet of paper."
Based on Piaggio's analysis of current battery energy density, and its likely improvement over the next decade, the manufacturer calculated that to achieve a minimum 300nm (550km) range with four passengers and two pilots on board, the P180's maximum take-off weight would need to rise from 5,500kg (12,100lb) to 9,070kg, says Sollo.
Aside from the weight of the cells, Piaggio also identified their thermal management as another challenge to overcome, he adds.
Piaggio also modelled the use of hydrogen on the P180, maintaining its distinctive pusher-propeller configuration but adding a pair of bullet-shaped fuel tanks forward of the wing in place of the engine nacelles to feed air-cooled "advanced fuel cells", in turn powering twin electric motors.
Based on each fuel tank holding 56kg (123lb) of liquid hydrogen, the aircraft would be able to meet the 300nm threshold. Currently, the twin-turboprop-powered P180 can fly up to 1,500nm.
However, the airframer highlights the low technology readiness level of cryogenic storage tanks and affordable but high-power fuel cells.
Piaggio says it is instead looking to a clean-sheet design that could potentially incorporate fuel cell technology.
"This will be part of our upcoming technology plan for 2023-2027 that we are currently defining, based on funding from the EU's Clean Aviation programme and also Italy's PNRR Covid recovery plan," says the manufacturer.
Technologies supporting a "new business aviation/commuter airplane" should be ready in the 2027-2030 timeframe, Piaggio adds.
Piaggio has previously participated in the EU-funded Clean Sky 2 programme – the predecessor to Clean Aviation – leading the Small Air Transport (SAT) project. This is designed to mature technologies supporting more-electric aircraft, low-cost manufacturing systems, and single-pilot operations; activities under SAT are scheduled to conclude in 2023.
However, Piaggio stresses that any future development programme will have to be approved by its new owners.
The airframer has been in extraordinary administration since December 2018 and is seeking a buyer as part of its restructuring.
Earlier this year five potential bidders began due diligence on the Italian manufacturer in a process running until 28 April; any resulting offers need to be submitted by the end of May.