In recent years, business aviation manufacturers, particularly those behind the longest-range, largest cabin jets, have been tightening their grip in the maintenance, repair and overhaul sector, through acquisition or investing in their own bricks and mortar networks. The thinking is that MRO is a lucrative revenue stream in its own right, but controlling the aftersales operation also helps OEMs retain a relationship with an owner through the life of his or her aircraft.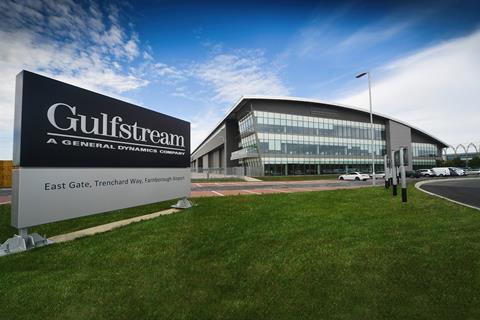 The vertical integration fashion began in earnest with Gulfstream parent General Dynamics' 2008 purchase of Jet Aviation, the world's leading business aviation services company with interests in aircraft management, FBOs, and large-jet completions. Gulfstream intended the addition to complement its in-house MRO operation, with the Zurich-based business keeping its own brand and platform-agnostic approach.
However, it has been Gulfstream's French rival Dassault Aviation that has been arguably most active in recent years, snapping up in 2019 maintenance businesses from ExecuJet, TAG Aviation, and RUAG. The acquisitions added around 19 facilities to Dassault's global network, which at the time comprised two sites in Europe – at Paris Le Bourget and Bordeaux-Meriginac – and three in the USA at Little Rock, Reno and Wilmington.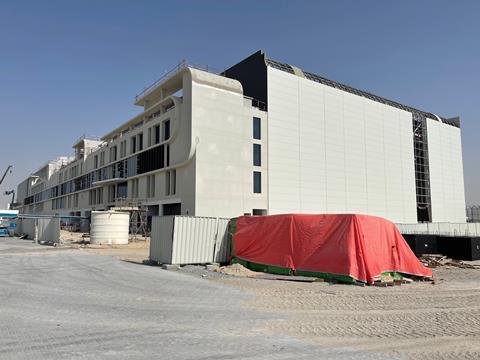 As chief executive Eric Trappier admitted in 2020, the French firm was late in coming to the party. Following General Dynamics' initiative with Jet Aviation, which saw many Dassault owners having their jets serviced at what was effectively a competitor-owned business, "we wanted to do something and get a better network worldwide to understand the market", he said. "Our mistake is we should have done it before."
Dassault's latest move has been to rebrand the former TAG Maintenance Services – which had retained its identity – Dassault Aviation Business Services (DABS). It stresses that DABS will continue to support "multiple OEM brands". The division – which includes the business jet MRO operations of RUAG in Switzerland – runs operations in Geneva and Farnborough, as well as satellite sites in Basel, Lugano and Sion in Switzerland, Paris, Lisbon, Luton near London, and Luanda in Angola.
As with General Dynamics and Jet Aviation, Dassault has kept a very hands-off relationship with what is now ExecuJet MRO Services. As part of the acquisition, the MRO operation was spun off in 2019 from Luxaviation-owned ExecuJet, which remains in the aircraft management and charter and FBO space, and still shares several facilities with its former sister business. Somewhat confusingly for customers, the two separately owned enterprises are both still called ExecuJet.
However, Dassault has no plans to rename ExecuJet MRO Services, recognising the strength of its brand in its key markets, says its chief executive Graeme Duckworth, who was a co-founder of the business in South Africa in 1991. "What was most important to Dassault was our footprint," he says. "But they also recognised that it was only possible for us to remain profitable because we cater for other OEMs. We don't favour any OEM over another."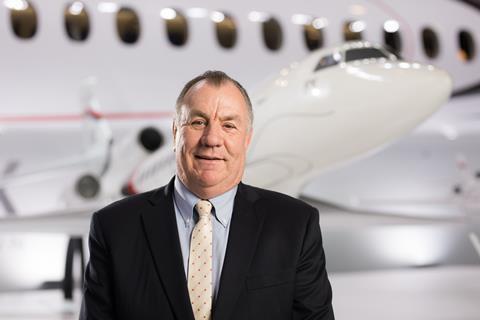 In fact, ExecuJet MRO Services still caters for more Bombardier aircraft than any other make, says Duckworth. This is a legacy of a partnership early this century between ExecuJet and the Canadian airframer that saw the former company not only provide maintenance for Bombardier owners in the likes of the Middle East, Australia and South Africa, but act as its sales representative too. Although the venture formally ended in 2008, many relationships with operators have remained.
One of the facets of ExecuJet MRO Services that appealed to Dassault was its presence in emerging markets, where the French manufacturer had little existing MRO representation, says Duckworth. The business is expanding its operations in the United Arab Emirates and Malaysia, where it is building a new facility at Dubai's second airport, Al Maktoum International, as well as at Sultan Abdul Aziz Shah airport in Subang, near Kuala Lumpur.
Bombardier, by contrast, has largely focused on developing its own service centre network, with recent major investments in new or expanded facilities in London, Singapore, Miami, and Melbourne, Australia. However, in 2020 it did buy out its partners in Berlin Brandenburg-based Lufthansa Bombardier Aviation Services – Lufthansa Technik and Luxaviation – to give it complete ownership of one of its key maintenance sites in Europe.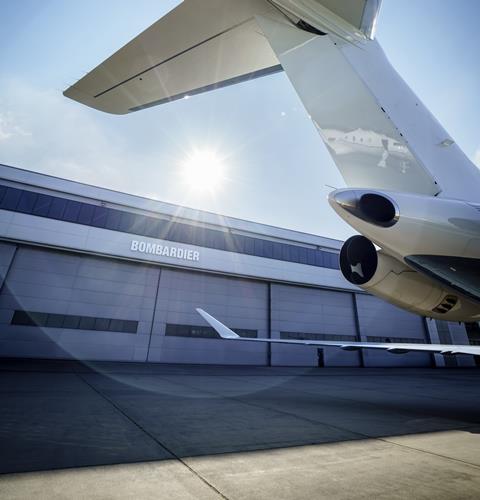 Bombardier had been due to unveil its new site at London Biggin Hill at a ceremony on 9 September – but the Queen's death forced the cancellation of the event. The hangar – capable of housing 14 Global aircraft – replaces a smaller, but still substantial facility at the business aviation airport, which Bombardier moved into six years ago, replacing previous Qatari tenant Rizon Jet. The new building is similar in size to a facility in Miami that it will open later this year.
Bombardier has also been active in Asia-Pacific, with a service centre at Melbourne's Essendon Fields Airport that opened on 28 September. The manufacturer says Australia is a crucial market with more than 80 Bombardier business jets in operation in the country. That followed the inauguration of a facility at Singapore's Seletar Aerospace Park. The latter quadrupled the size of Bombardier's former hangar to 26,000sq m (290,000sq ft), and is capable of supporting 2,000 jets annually.
Gulfstream, the other "big three" OEM, has also been active in its own right. After cutting the ribbon on a new European maintenance hub at London's Farnborough airport in 2020 – replacing its smaller predecessor at Luton – and another facility at Phoenix-Mesa Gateway in Arizona, the Savannah-based manufacturer will open this month a 15,000sq m customer support centre at Fort Worth Alliance airport, able to house nine large-cabin aircraft.
At the NBAA convention, Textron Aviation said it is unveiling later this year a 1,100sq m satellite service centre at Dallas Love Field to cater for operators of its Beechcraft, Cessna and Hawker brands. That follows a series of investments in its European service network this year, including an expansion of its Dusseldorf parts distribution facility and its Stuttgart line station, as well as the addition of a mobile service location in Madrid.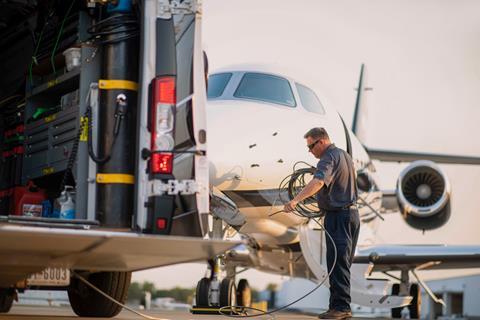 Embraer in June inaugurated two new hangars at its Sorocaba service centre near Sao Paulo, doubling its area to 40,000sq m. Three hangars are for MRO, while the third will be for aircraft parking. "There is consistent growth in executive aviation in Brazil and we see great opportunities for the service sector," says Johann Bordais, chief executive of Embraer Services & Support. Among the capabilities Sorocaba offers is the conversion of Legacy 450s into Praetor 500s.
Smaller OEMs have also been investing in MRO. Pilatus in September acquired Skytech and its sites in Maryland and South Carolina. Skytech had represented the Swiss brand for almost 30 years, and will continue as an independent firm with responsibility for servicing and sales of PC-24s and PC-12s – as well as other brands – on the East Coast. Pilatus, which already has a Colorado-based subsidiary, says owning Skytech will allow it to "expand its direct involvement in the US market".
Honda Aircraft announced in July the addition of four authorised service centres to take its global network to 21 locations. Two new centres in the USA – Hillsboro Aviation near Portland and Mather Aviation in Sacramento, take the Japanese airframer's North American network to 12. Meanwhile, Honda has also added Dviation Technics in Selangor, Malaysia to be its exclusive service provider in Southeast Asia, and Signature TechnicAir in Bournemouth, UK.
It appears certain the trend by the OEMs to absorb more of the third-party global MRO infrastructure will continue, as will investments in in-house capabilities and capacity globally. With business aviation continuing on a high after the Covid-19 crisis, manufacturers appreciate more than ever the importance of fast, local, efficient and good-value aftermarket service to keeping the customer content, no more so than when it comes to aircraft on the ground (AoG) situations.
That is perhaps a crucial reason the airframers have not tried to make their MRO chains – especially those they run under separate brands – exclusive. They acknowledge that MRO shops have to be profitable, and this invariably entails taking in third party work. However, they also realise the importance of getting a customer airborne again as quickly as possible, especially with an AoG, and this often means relying on facilities owned independently or by rival manufacturers.
Unlike franchised car dealerships, for example, when your $50 million aircraft is unable to fly because of a technical glitch or part that needs replaced, there may not be a manufacturer-owned MRO in the same country, or even the same continent. Despite the rush to top-down integration, it is in everyone's interest – airframers and operators alike – that the MRO network remains as accessible as possible, regardless of the name over the door.