This has been the year that Bombardier – save some last-minute formalities – completed its long and bumpy journey to a business aviation only company. As part of that strategy, the Canadian company has also been heavily investing in its service footprint.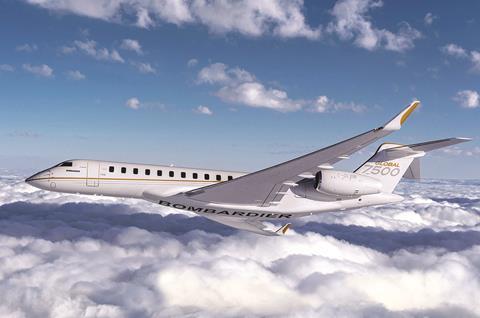 In late October, Bombardier announced it was setting up a new service centre in Melbourne, Australia to boost its service capabilities in Asia-Pacific. Next year it will open an extension to its site in Singapore.
In Europe, the company, which is exhibiting at the virtual VBACE NBAA event this week, said in September it was taking full ownership of the Berlin-based LBAS business after agreeing to buy out partners Lufthansa Technik and Luxaviation subsidiary ExecuJet. Meanwhile, a second, 2,300sq m (25,000sq ft) hangar is being built next to its existing Biggin Hill facility in London in 2022.
The moves are part of a "landmark effort this year", says Bombardier, to increase the manufacturer's maintenance, repair and overhaul capacity and direct share of the after-sales market as it focuses on building, selling and supporting business aircraft – until recently one of four segments of the Montreal-headquartered group's portfolio, alongside regional aircraft, aerostructures and rail transportation.
Chief executive Eric Martel said during a third-quarter results presentation in November that Bombardier would be aiming to deliver 100 to 120 business jets annually, and to align its cost structures to that level of output. The airframer offers three families of aircraft – the large-cabin, ultra-long-range Globals, the mid-range Challenger 650 and 350 pairing, and the Learjet light jet brand.
Bombardier completed the divestment of its CRJ regional jet programme to Mitsubishi Heavy Industries in June, after earlier having sold its Q400 turboprop to Canadian firm Longview.
Also this year, it sold to Spirit AeroSystems its Belfast, Northern Ireland-based aerostructures division, which produces, among other components, the composite wing for what was the Bombardier CSeries, and is now the Airbus A220.
It is finalising the sale of its train business to French company Alstom for $4 billion.
Bombardier delivered 24 aircraft in the third quarter, including eight of its flagship Global 7500, the most of that type it has handed over in any quarter. Martel expects Global 7500 deliveries to increase to around 12 in the final quarter. High-profile customers include European charter operator VistaJet.
Additionally, the third quarter saw the entry into service of the Learjet 75 Liberty, the latest version of the Wichita-built light jet family.
David Coleal, former head of Bombardier Aviation, also departed the company in October as part of a slimming-down of the senior executive team.