Belgian aerostructures manufacturer Sonaca is to develop and build the airframe for VoltAero's Cassio hybrid-electric aircraft.
Under the terms of an agreement with the French start-up announced today, Sonaca will "transition Cassio from its current design status into a production-ready definition". It will also "oversee" the aircraft's manufacture.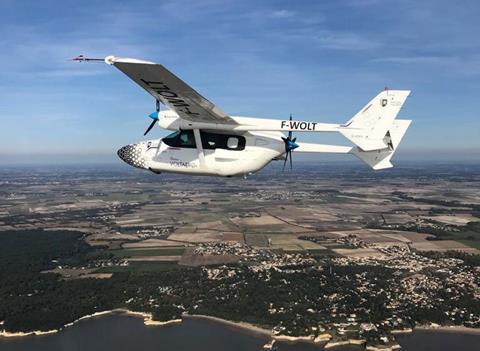 VoltAero's founder, former Airbus chief technology officer Jean Botti, says the deal "takes us one very important step closer to production".
Last week, VoltAero publically flew its Cessna 337 Skymaster-based prototype, featuring a dual-power source engine, for the first time at its base in Royan-Medis in southwest France. The company this week started an 11-city country tour with the demonstrator.
VoltAero plans to release a family of three aircraft, with four, six and 10 seats. The proposed design of the aircraft also features a forward fixed canard and an aft-set wing with twin booms that support a high-set horizontal tail. The powertrain integrates a cluster of electric motors with an internal combustion engine in a "barrel configuration" that drives a single pusher propeller.
The company plans to assemble the aircraft in the Nouvelle Aquitaine region of southwest France with deliveries targeted to begin in 2023 with the four-seat Cassio 330.
Charleroi-based Sonaca, which is owned by the Wallonian regional government, is one of Europe's largest aerostructures specialists.