Aerostructures specialist Spirit AeroSystems is more familiar for its work on commercial airliners than business jets, but the manufacturer is here at the NBAA show to push its credentials in the sector, not least through the capabilities of its newly acquired site in Belfast, Northern Ireland.
The Wichita-headquartered company sees the show as a chance to stress its expanded global presence, newly acquired business jet capabilities and interest in expanding to new markets, including the electric vertical take-off and landing (eVTOL) segment.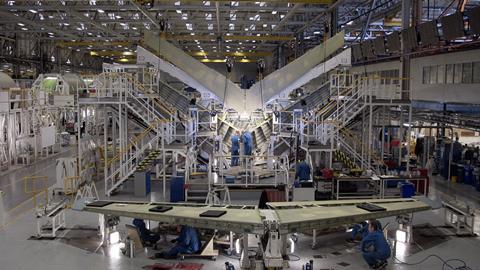 "It's our first substantial presence at NBAA," says Spirit vice-president of regional and business jet programmes Alex Bellamy.
Spirit has long been known primarily for manufacturing aerostructures for commercial airliners – notably fuselages for Boeing 737s.
But Bellamy says Spirit significantly boosted its business aviation work with its October 2020 purchase from Bombardier of the Belfast, Northern Ireland manufacturing facility.
As part of that $275 million deal, Spirit also acquired Bombardier's Morocco aerospace manufacturing site, and facilities in the USA.
In Belfast, Spirit manufactures fuselages for Bombardier Global and Challenger business jets, and empennages for Globals, alongside wings for the Airbus A220s. The company's other business aviation products include nacelles for Rolls-Royce powerplants.
Bellamy specifically cites Spirit's experience in manufacturing composite structures at the site.
He describes the Belfast operation as having a "long history and heritage" of aerospace design, engineering and manufacturing. That site and the Morocco presence allow "us to bring the best of each of our geographic locations… for future customers," he says.
Part of Spirit's strategy includes seeking a slice of the eVTOL market, a segment in which Spirit is already securing a footing. In March, Airbus revealed it had contracted Spirit to develop wings for the CityAirbus NextGen air taxi, which will be built in Belfast.