Supersonic business jet developer Aerion has unexpectedly ceased operations, after admitting it could not raise enough capital to bring its AS2 programme to market.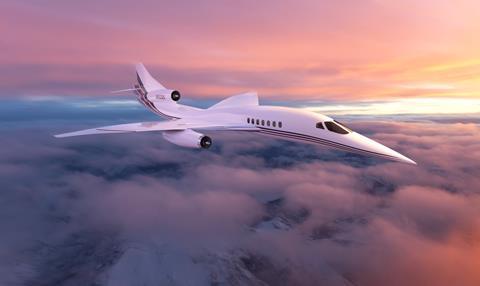 The move, which will be a shock to many in the industry, comes despite Boeing-backed Aerion having secured $11.2 billion worth of orders, including from high-profile customers such as fractional ownership firms NetJets and Flexjet. The former committed to 20 examples in March, while rival Flexjet said in 2015 it intended to buy 20 AS2 aircraft.
In a statement issued late afternoon local time on 21 May, the Reno, Nevada-based company, said that "in the current financial environment, it has proven hugely challenging to close on the scheduled and necessary large new capital requirements to finalize the transition of the AS2 into production".
Aerion, which was founded by billionaire Robert Bass in 2003 and had been hoping to fly the 10-passenger AS2 in 2024, secured an undisclosed investment from Boeing in 2019. The Chicago-based airframer was also providing ongoing "financial, engineering and industrial resources".
Lockheed Martin had earlier been a backer of the project, but pulled out after Boeing became involved.
The company had also secured as suppliers some of the biggest names in the industry. The 4,200nm (7,780km)-range jet was to have been powered by three GE Aviation 20,000lb (89kN)-thrust Affinity turbofans. BAE Systems, Collins, GKN, Honeywell, Safran, Spirit AeroSystems and Universal Avionics were also confirmed as programme partners. Aerion was targeting 2026 for an entry into service.
The company was also preparing to break ground on a new headquarters and production facility at Melbourne in Florida, which is also home to Embraer's US operations. It planned to begin production of the aircraft in 2023.
Aerion unveiled the AS2 in 2014 after abandoning an earlier concept.
The company's demise leaves two start-ups working on supersonic aircraft designs: Denver-based Boom is developing the Overture airliner, while Spike Aerospace's S-512 is a 12-passenger business jet.
In a statement, Spike describes Aerion's closure as "unfortunate news". It adds: "A lot of good people have been working hard for years at the company to introduce their vision for supersonic flight…Engineering, customers and partners are not all that are needed in such a high-capital project. Need capital that understands the risks and rewards."