Textron Aviation has delivered the first passenger variant of its Cessna SkyCourier turboprop to Hawaiian charter operator Lanai Air.
The shipment marks the next evolution of the SkyCourier programme following handover of more than a dozen cargo-configured variants.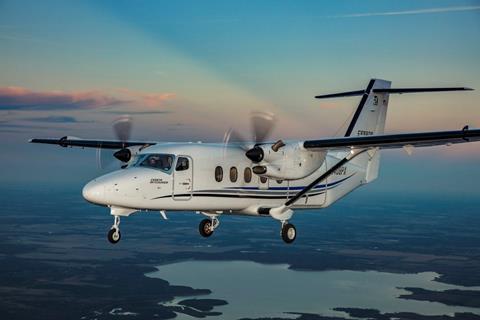 Textron Aviation obtained certification for the clean-sheet SkyCourier in 2022, delivering the cargo-configured aircraft to FedEx the same year.
The manufacturer has long marketed the SkyCourier as a passenger aircraft suitable both as a 19-seat airliner and as a corporate and executive transport with a lower-density interior.
Textron Aviation is also working on a quick-change interior to allow the rapid reconfiguration from cargo to passenger transport.
"The Cessna SkyCourier is well on its way to becoming a legendary aircraft for our company," says Textron Aviation senior vice-president of global sales and flight operations Lannie O'Bannion.
Powered by twin 1,110shp (828kW) Pratt & Whitney Canada PT6A-65SC turboprops, the passenger variant of the high-wing SkyCourier has range of 900nm (1,667km) and can cruise at 210kt (389km/h). The type has Garmin G1000 NXi avionics.
Textron Aviation does not specify the seat count of the aircraft delivered to Lanai Air, nor say if it expects to deliver more to the company.