Textron Inc., the parent company of the Wichita-based airframer Textron Aviation and helicopter manufacturer Bell, says it is eliminating 1,950 jobs as part of a restructuring programme made necessary by the effects of the global coronavirus pandemic.
The company says in a filing with the securities and exchange commission on 18 June that it will reduce its operating expenses by between $110 million and $130 million through "headcount reductions, facility consolidations and other actions in response to the economic challenges and uncertainty resulting from the Covid-19 pandemic".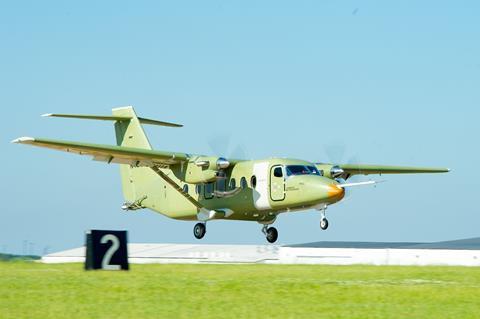 The restructuring project impacts the TRU Simulation + Training business within Textron Systems, as well as the Textron Aviation and Industrial segments. The cuts represent 6% of the firm's total workforce.
It is unclear how many of the job cuts will be at Textron Aviation, the parent of Cessna and Beechcraft, which employs more than 12,000 workers altogether, most of them in the central US state of Kansas.
"In the Textron Aviation segment, with lower volumes expected in the near term, we will initiate indirect and direct workforce reductions as we align our cost structure and production levels with demand," the filing reads.
Textron did not disclose any impact to Bell, which makes civil and military helicopters.
The company could not be immediately reached for additional comment.
Earlier in the day, Textron Aviation chief executive Ron Draper told an FAA online forum that the company had seen business screech to a halt early in the crisis, but that there are now "signs for optimism" that the company and the industry are on their way to recovery.
In April, Textron Aviation had said its first-quarter profit tumbled 97% year-on-year to $3 million due largely to an idle factory floor and sagging aircraft sales amid the global coronavirus outbreak. In late March, the company had temporarily shuttered its manufacturing facilities and furloughed a number of US employees. It said it had delivered far fewer aircraft in the first three months of 2020 compared to the same period a year ago.
Just a few weeks later Textron's Cessna subsidiary launched the flight test programme for its twin-engined turboprop called the SkyCourier. The airframe, introduced in 2017, will be offered in various configurations including freighter, passenger or combi - all based on a common platform.

Pilar Wolfsteller, Americas Air Transport Editor, is an FAA-certified flight instructor (CFI), and holds a commercial pilot certificate with instrument rating. She joined FlightGlobal in 2019, and is based in Las Vegas. She covers airlines across the hemisphere and her interests also include future-oriented sustainable aviation technology, advanced air mobility projects and pilot training topics. Pilar began her journalism career at the global news agencies Bloomberg and Reuters, and has reported from more than 50 countries.
View full Profile