Textron intends to cut 875 jobs as part of a restructuring that "principally impacts" Textron Aviation and Textron's industrial division.
The industrial division makes ground vehicles like snowmobiles and utility vehicles.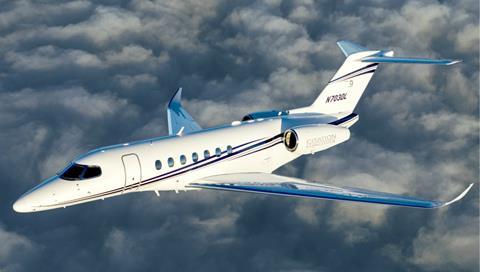 Wichita-based Textron Aviation, which employs more than 13,000 people, declines to specify how many of the 875 cuts will affect its business.
It says the layoffs will primarily affect jobs in Wichita and will take effect 31 December.
Textron's announcement comes nearly two months after competing business aircraft maker Gulfstream disclosed it was cutting 446 positions.
In a regulatory filing disclosing the cuts, Textron attributes the Textron Aviation unit's layoffs partly to completed development of the Longitude business jet. The Federal Aviation Administration certificated Longitude in September.
"Textron's board of directors approved a restructuring plan designed to reduce costs and improve overall operating efficiency through headcount reductions, facility consolidations and other actions," says the filing, made to the US Securities and Exchange Commission. "In the Textron Aviation segment, we conducted a review of our ongoing workforce requirements, resulting in the initiation of targeted headcount reductions and other actions to realign our cost structure."
Those cuts are "primarily related to engineering positions, reflecting completion of the Longitude certification activities and reduced requirements for ongoing development programmes", it adds.
"Business support" employees are also being cut.
Textron expects the total 875 job cuts will cost $40-45 million in severance and related expenses in the fourth quarter.
In a statement to FlightGlobal, Textron Aviation describes the cuts as part of an effort to "continue to operate with efficiency".
"Last month, Textron Aviation offered a voluntary retirement programme… with limited eligibility for salaried exempt employees only," it says. "Textron Aviation remains focused on our long-term strategic workforce plan and will continue hiring as needed for skilled advanced aviation manufacturing positions, such as composites, tooling, [airframe and powerplant] mechanics, avionics technicians, and other direct manufacturing and customer support jobs."