Wealthy passengers on private jets might not spring to mind when we think of essential travel during coronavirus lockdown. However, at one of London's busiest business aviation airports, Biggin Hill, international flights continue to land and take-off daily, although traffic is down 70% year-on-year.
"After a flat March, April traffic was 30% of what it was in 2019," says commercial director Robert Walters. "However, transatlantic business is still relatively strong. We have seen a number of repatriation flights as well as day trips for people who own businesses in London, for example. These are classified as essential travel."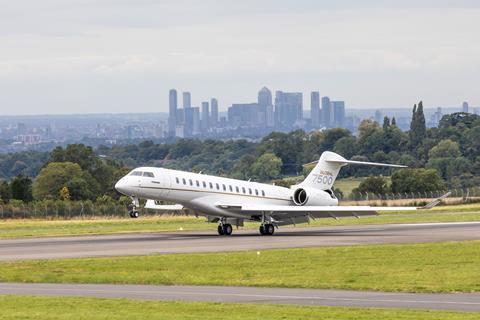 Under the UK's Covid-19 restrictions, in place since 23 March, overseas passengers arriving at UK airports do not have a temperature or medical check, or go into quarantine as in several other countries. However, immigration officers have the power to determine whether journeys count as essential travel, and can ban entry.
Once social restrictions begin to be relaxed, Walters believes there is a "unique opportunity" for business aviation to capture premium passengers that might previously have chosen airlines. "There is no better way to socially distance than using a business jet rather than an airliner," he says. "In addition, people will be forced to consider business aviation just to get from A to B as airlines cut back on route availability. We also offer an airport environment with a very low density of people – our business is not predicated on passenger throughput."
Walters claims that Biggin Hill has been the only UK business airport that has "stayed fully open and operational" throughout the crisis. He says the operation is further shielded from drop in traffic by a business model that relies more on property income. More than a dozen major tenants – including Bombardier, which has its European service hub there, Leonardo, Textron and Pilatus – are based at the southeast London airport.
Meanwhile, Harrods Aviation has re-opened its fixed-base operations at London Luton and Stansted airports on 4 May after a five-week closure. The company says that while, initially, operational hours and staff numbers will be "limited for safety reasons", it expects "to get closer to normal operating by the summer months".