VistaJet parent Vista Global Holding has struck an agreement to acquire German charter firm Air Hamburg for an undisclosed fee.
Founded in 2006, Air Hamburg has become a fixture of the European business aviation industry, last year accumulating 35,000h across 18,800 flights.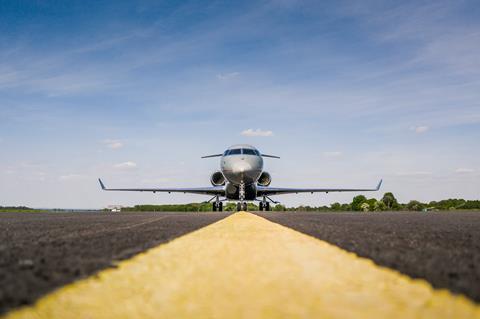 VistaJet expects to see flight hours across the combined business rise by 30% this year following the acquisition, which is expected to close in the first half of 2022, subject to regulatory approvals.
VistaJet will gain access to Air Hamburg's fleet of 44 contracted aircraft, including two Embraer Lineage 1000Es and a trio of Dassault Falcon 7X trijets.
The acquisition also includes a European Union Aviation Safety Agency-approved Part 145 maintenance base at Karlruhe/Baden-Baden airport, alongside an executive handling division and VIP lounge at Hamburg airport; 650 employees will also transfer across.
Floris Helmers, chief executive of Air Hamburg, adds: "This is an incredible opportunity to remain at the top of the growing business aviation market.
"This cooperation between two of the largest operators means increasing our stability and securing further growth for our business."
Thomas Flohr, Vista's founder and chairman, adds: "Air Hamburg is an impressive, well-established and profitable business with a long-standing track record in best-in-class client service – like Vista, it is known for its reliability and consistency throughout a scaling fleet and high utilisation."
The move builds on Vista Global's previous integrations of Apollo Jets, Talon Air and Red Wing Aviation.