One of the world's biggest business jet charter companies is to allow customers to offset the carbon impact of their flights by purchasing sustainable aviation fuel (SAF) that can be used elsewhere in the world.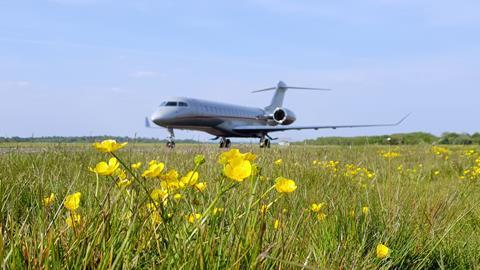 VistaJet is teaming with Dutch biofuel provider SkyNRG, which will manage the initiative on behalf of the all-Bombardier operator.
Like many in a sector accused of leaving a particularly heavy carbon footprint, Malta-based VistaJet has been keen to stamp its environmental credentials, including by operating more SAF-powered aircraft and flights.
However, VistaJet acknowledges that price and lack of availability of SAF is a barrier to its adoption – biofuel accounts for less than 0.1% of aviation fuel consumption worldwide, and is often twice as expensive as conventional jet fuel. By offering the "biofuel credit", environmentally-conscious clients can help boost the global take-up of the carbon-friendlier alternative, says chief commercial officer Ian Moore.
Under the scheme, customers buy SAF from SkyNRG, via VistaJet. SkyNRG delivers the fuel to an airport near its production site to minimise carbon emissions involved in its transport.
Moore says the scheme has had an encouraging start. "Within hours of telling our customers about it, we had several come back to us to say they were very interested in participating," he says.
The operator earlier this year announced eight environmental commitments or "pillars of sustainability", which include offering customers a carbon offsetting programme, using more renewable electricity in its offices, and reducing single-use plastics on board.
The push by the industry to encourage wider use of SAF was centre stage at last year's European Business Aviation Convention and Exhibition, where around 12 business aircraft fuelled by SAF were flown by manufacturers and operators from Farnborough and other European airports to Geneva. At the show a group of business aviation organisations committed to campaign for SAF to become more accessible.
VistaJet, which operates 73 mainly Challenger and Global aircraft, took on its first Global 7500 this year and plans to add its second before the end of the year. A further "five or six" of the new Bombardier ultra-long-range flagship are due to join the fleet next year, says Moore.