US private-aviation services provider Wheels Up became a publicly traded company on 14 July, generating $650 million through a stock offering the company says will help fund accelerated global growth and technology investment.
The milestone marks further expansion by rapidly growing Wheels Up, which operates a private-aircraft membership programme and has in recent years completed several major acquisitions.
Wheels Up is now listed on the New York Stock Exchange under the name Wheels Up Experience. It became publicly traded by merging on 13 July with a special purpose acquisition company called Aspirational Consumer Lifestyle, which had already been publicly listed.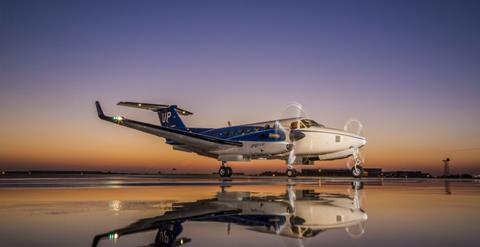 Wheels Up raised $650 million through the deal, funds that will help "accelerate investment in… technology and product offerings, driving the company's core global growth strategies and expansion of the Wheels Up marketplace", Wheels Up says on 14 July.
Wheels Up has had a busy few years of expansion.
The company acquired Indiana-based light jet operator Travel Management Company in May 2019, then purchased US flight management system provider Avianis in September 2019.
In January 2020, Wheels Up acquired Delta Air Lines' private aviation arm Delta Private Jets, granting Delta a 27% Wheels Up equity stake in the process. Then, in March 2020, Wheels Up bought Connecticut-based aircraft operator Gama Aviation Signature.
Acquisitions continued in 2021 with Wheels Up's January purchase of Mountain Aviation, an aircraft maintenance provider and operator of Cessna Citations Xs.
Wheels Up sells memberships into programmes through which customers receive access to private aircraft. It describes its technology-centric business model as one that "connects flyers to private aircraft".
In 2020, Wheels Up had 9,200 "active" programme members, transported 150,000 passengers and generated $695 million. It lost $85.4 million last year, according to securities documents.
As of late June, Wheels Up's fleet, including aircraft owned by partners, stood at about 1,500 private aircraft. Of those, 170 are owned or leased by Wheels Up, roughly 170 are managed by Wheels Up and some 1,200 are "third-party network aircraft", meaning they are operated by partner companies that provide flight services to Wheels Up.
Types include Beechcraft King Air 350s, Bombardier Challenger 604s, Citation XLS and Encore+, Dassault Falcon 2000s, Hawker 400XPs, Hawker 400XPs and Gulfstream IVSPs and 450s.