US charter company Wheels Up continues to expand through acquisition, announcing it has purchased Colorado-based private aviation company Mountain Aviation.
New York-based Wheels Up has not disclosed the purchase price. It says the deal will significantly grow its fleet of Cessna Citation X and expand its maintenance operation.
"The acquisition accelerates Wheels Up's platform to better serve increasing flight demand from its rapidly growing membership and charter marketplace," says Wheels Up. "Mountain Aviation's wholesale charter operations and [super-] fleet are a perfect complement."
Mountain Aviation's fleet includes more than 60 aircraft, including Beechcraft King Airs, Citations, Gulfstream IV and Falcon 900s. The company said in December 2020 that, with 26 Citation Xs, it was the world's top operator of that type.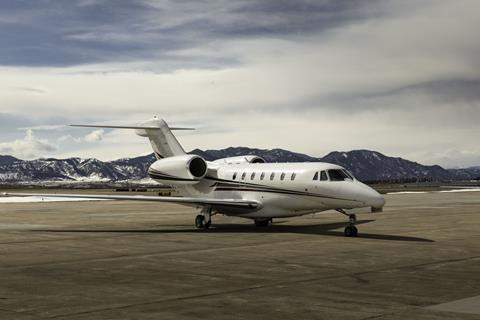 Wheels Up does not operate aircraft but sells charters through membership programmes. Partner companies operate a fleet of "nearly 100 Wheels Up-branded aircraft", according to its website.
The acquisition brings Mountain's Part 145 maintenance organisation into the Wheels Up family. That operation occupies seven aircraft hangars and will "accelerate the build-out of Wheels Up's in-house maintenance function and capability, adding expected efficiencies across the Wheels Up operation", it says.
The acquisition will also boost Wheels Up's aircraft management business and broaden its reach into "government defence contract business" and "medical transportation customers".
Mountain provides "government airlift" services and "multi-mission" operations, such as surveillance, passenger and cargo flights, according to its website.
"Mountain Aviation's wholesale business will continue to operate independently with no interruption of service," Wheels Up says.
Mountain chief executive Gregg Fahrenbruch will continue to run that business but transition to the position of senior vice-president of operations strategy.
The deal follows Wheels Up's acquisition in March 2020 of Connecticut-based business aircraft operator Gama Aviation Signature.
In January 2020, Delta Air Lines acquired 27% of Wheels Up for an undisclosed sum. As part of that agreement the companies said they were combining Wheels Up with Delta subsidiary Delta Private Jets. Together, the companies said they had more than 200 aircraft.
In 2019, Wheels Up acquired light-jet operator Travel Management Company and Avianis Systems, a technology company that has developed a digital flight and operations management system.