US private aviation company Wheels Up Partners has unveiled a plan to become a publicly traded company by merging with a "blank check company".
Wheels Up, based in New York, will combine with a newly formed, publicly traded shell company called Aspirational Consumer Lifestyle Corporation.
Upon the merger, expected to close in the second quarter, Wheels Up will become a public firm, it says on 1 February.
"This transaction will enable Wheels Up to accelerate marketplace growth and adoption, invest in adjacent lifestyle and consumer services to complement the platform, and drive global expansion," the company says.
The deal values Wheels Up at $2.1 billion. "Upon closing of the transaction, Wheels Up will be the first private aviation platform to be listed on the New York Stock Exchange," it says.
Wheels Up sells aircraft charters through membership programmes. Other services include aircraft management and sales. It has completed several acquisitions in recent years, including that of Colorado-based private aviation company Mountain Aviation and of business aircraft operator Gama Aviation Signature. In 2020, Delta Air Lines took a 27% stake in Wheels up.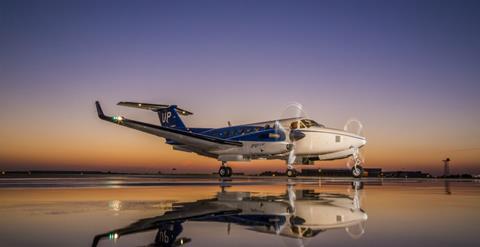 The deal is expected to generate $790 million in proceeds, including $240 million in cash already held by Aspirational and $550 million in private funding from several investment companies.
Aspirational is a "special purpose acquisition company" (SPAC), also known as a blank-check company, it says in financial filings.
Blank-check companies boomed in popularity in 2020. They are typically formed by well-known investors for the specific purpose of acquiring other companies. But, when formed, they have no business plan and have not named investment targets.
Still, investors have eagerly pumped money into blank-check companies based only on the reputations of the companies' founders.
In January, news broke that former Boeing chief executive Dennis Muilenburg was working to form a blank-check company.
Wheels Up merger partner Aspirational went public in 2020. It is based in Singapore, incorporated in the Cayman Islands and led by chief executive and private-equity veteran Ravi Thakran. Private equity company L Catterton, based in Greenwich, Connecticut, is a minority shareholder in Aspirational.
Thakran will join Wheels Up's board of directors following the merger, though Kenny Dichter will remain Wheels Up CEO, the company says.