Transport Canada has ordered a single Elbit Systems Hermes 900 Starliner unmanned air vehicle (UAV) to serve in the environmental monitoring mission.
The recently announced C$36.2 million ($28 million) deal covers a single airframe, according to Ottawa's procurement agency. The UAV will be delivered by December 2022.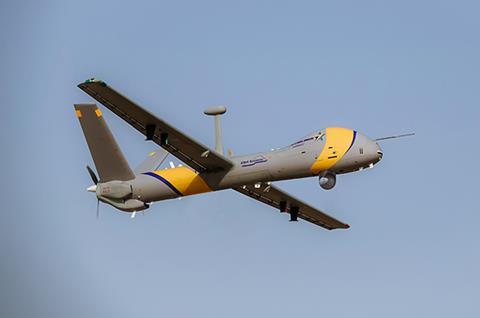 "Canada is committed to protecting our endangered species and our marine environment," says minister of transport Marc Garneau.
"Integrating remotely piloted aircraft into our fleet will make our surveillance operations more robust than ever. The National Aerial Surveillance Program also helps with search and rescue, humanitarian efforts, illegal fishing enforcement, and the development and regulation of Canada's drone industry."
The Israeli-made system won the deal after a competitive procurement process.
Ottawa notes that the Hermes 900 has an operational arrange of over 1,400nm (km) and is capable operating beyond visual line of sight, making it well suited to detecting oil spills, surveying ice and marine habitats, and monitoring Canada's arctic.
Elbit notes that the Starliner is certified to operate in civilian airspace and operate from civilian airfields.